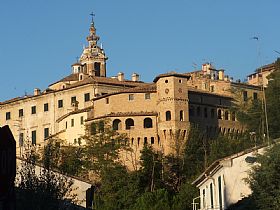 One of Le Marche's loveliest and liveliest cities also has a regal past. It is a surprisingly sophisticated city with a population of 40,000. Jesi started life as an outpost which saw fighting and melding between the Umbri and Piceni tribes, before being conquered by the Romans in 283 BC. It prospered thanks to its connection to the famous roads, Via Flaminia and Via Salaria, and a firm colony called Aesis was established, which received status as a Roman city. The footprint of that ancient foundation can still be seen.
But it was a chance event in 1194 that put Jesi on the map and gave it greatness - the birth of Emperor Frederick II happened here while his mother, Constance, was traveling to Puglia, the territory of his father's domain (though Constance was queen of Sicily, and the dominion of that land was bestowed on Frederick when he was just four years old). The Holy Roman Emperor was born in a royal tent in the main piazza of Jesi, formerly the Roman forum, as his mother wanted no doubts to surface about the legitimacy of her son's birth. Frederick II, who became the Stupor Mundi for his abilities was also known for his patronage, and his birth city was given the title of Citta' Regia (Royal City) with rights and privileges. It was free of the constraints of the church and remained an independent city-state for centuries thanks to his benevolence. The piazza is now aptly named for Federico II.
Jesi also prospered during the Middle Ages and Renaissance, so there are many beautiful palaces and civic buildings to lend an air of elegance. Some highlights are Palazzo della Signoria, formerly the rulers' palace, Palazzo Balleani, the "diamond studded" Palazzo Ricci, and Palazzo Ripanti, which houses the impressive collection of the Diocesan Museum. Palazzo Pianetti is awash in flamboyant decorations, and the civic art gallery is here, with several paintings by Venetian artist Lorenzo Lotto, who worked prolifically in Le Marche. The city walls are still intact, encasing the ridge-top city in buttresses and towers.
Lest you think that Jesi is only dusty with history, take a stroll in the evening before dinner along Corso Matteotti when you'll see the passeggiata in full swing, with most of the townspeople out in droves. The cafes and restaurants are crowded with folks enjoying the atmosphere of their city, so take a table on the piazza and sip a glass of Verdicchio dei Castelli di Jesi and watch the people parade!
Been there? Done that? Share your experience and tips!
Haven't visited yet? Have questions about Jesi? Ask them here!
Explore nearby towns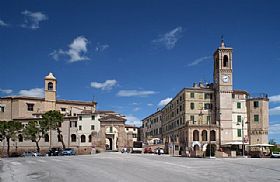 Sitting in the hills just a few kilometers from the Adriatic Sea, Morro d'Alba enjoys nice views and medieval atmosphere.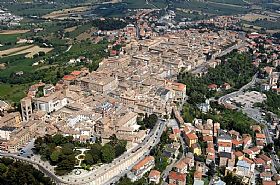 Occupying a hill near Ancona, Osimo is a monumental town with breathtaking views.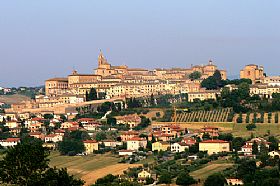 A perfectly preserved medieval center of brick buildings and stately palaces makes Corinaldo a beautiful place.