Fontana dei Quattro Fiumi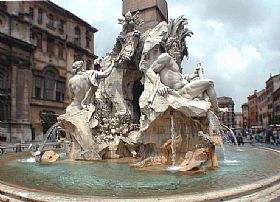 Gian Lorenzo Bernini worked to realize the "Fontana dei Quattro Fiumi" in Piazza Navona from 1648 to 1651, under commission of Pope Innocent X and the Pamphilj family.
The fountain supports the splendid Roman copy of an Egyptian obelisk, coming from the Circus of Maxentius. Great architectural oeuvre, the fountain puts on display the baroque device of the obelisk dangling in space.
This gorgeous piece of art was made with the cooperation of distinguished sculptors of the time, like: Giacomo Antonio Fancelli (River Nile), Claude Poussin (River Ganges), Antonio Raggi (River Danube), Francesco Baratta (Rio de la Plata).
Four colussal figures, seat in contrasting poses, personifying the big rivers of the four continents as follows:
The Nile with a lion and a palm symbolizing Africa, while the blindfolded eyes indicate that its springs were still unknown.
Rio de la Plata, with silver coins to symbolize the silvery waters (from the Spanish "plata", meaning Silver); the popular belief according to which the statue was meant to point at the Church of St Agnese to show the Bernini's aversion against the artist Borromini. The latter worked on the church from 1653 to 1657, when the fountain was already finished.
The Danube with a horse and the flowers to recall the fertile Danubian plains.
The Ganges with a long oar to indicate the river's navigability.
The fountain, crowned by the Holy Spirit Dove – which was the emblem of Pope Innocent X – was also interpreted as symbol of the triumph of the Church over the four continents.
Been there? Done that? Share your experience and tips!
Haven't visited yet? Have questions about Fontana dei Quattro Fiumi? Ask them here!
Address in Rome:
Piazza Navona.