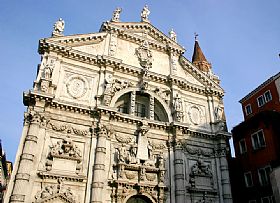 This is one of Venice's most unique churches, not only for its extravagant exterior but its name. Dedicated to "Saint Moses," the Biblical patriarch isn't really a cannonized saint, but in Venice, they consider any Biblical character as such without cannonization. But what's more, it was named for its benefactor, Moise' Venier, who ordered it to bear his (or at least his Old Testament namesake's) name. There was a small wooden church on the site built in the 700s dedicated to San Vittore, but this one was commissioned in the 900s. The church then was renovated in the 1100s and again in the 1600s, this time with the marks of the Baroque movement all over it. It is said that the rebuilding came following a plague that struck the city in 1630-1631, perhaps in gratitude for having been saved by the scourge of the deadly disease, as Moses saved his people from the snake bites in the desert.
The lavish facade is festooned with elaborate carvings, the most embellished (some Venetians say most hideous) of the city. It's a church that many locals love to hate; yet it's unique. Don't miss the two camels carved above the portal. The interior is no less grandly decorated, especially the incredible altarpiece that combines frescoes, sculptures and rocks to depict Moses receiving the ten commandments from God. An unusual depiction, finely sculpted, of the Pieta' is another highlight.
The Church of San Moise' is located between Piazza San Marco and the Accademia on a small campo.
Been there? Done that? Share your experience and tips!
Haven't visited yet? Have questions about Church of St Moise'? Ask them here!
Address in Venice:
Campo San Moise', 30124.
Ph. +39 041 528 5840.