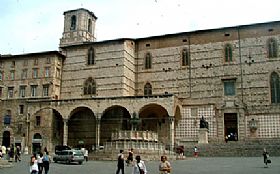 The beautiful Cathedral of St Lorenzo in Perugia was originally designed in 1300 by Fra Bevignate, who planned to build the religious building over the ruins of an ancient basilica. However, the real works began 1345 and finished in 1490. You will certainly find the dome's marble left side more interesting than the façade itself (which remained unfinished): there is a marvellous monumental Gothic portal, designed by Galeazzo Alessi in 1568, and a splendid cross representing the 'salt war' of 1540 against Pope Paul Farnese III, who crushed part of the medieval city. The left side of the portal shows a magnificent bronze statue of Giulio III, by Vincenzo Danti (1555); while the right side exhibits the lovely fifteenth-century pulpit used by St Bernardino da Siena to preach, from 1425 to 1427. This flank overlooks indeed Fontana Maggiore and Palazzo dei Priori.
The interior is bare and solemn, with a nave and two narrow aisles surmounted by crossbow vaulting. It was altered in the XVIII century, with the addition of stucco and other decorations such as the false marble painting over the of the columns, the altar and the paintings of the vaults.
On the left side is the Chapel of St Bernardino da Siena, preserving one of the two precious oeuvres of the building, the Deposition from the Cross, by Federico Barocci (1567-69); the second work of art is St Onofrio Altarpiece, made by Luca Signorelli in 1484: a frescoed panel representing Our Lady, Saint Onofrio, Saint Ercolano, St John the Baptist, and St Stephen, with a most beautiful angel who is tuning a lute, recently restored.
The counter-façade displays the sarcophagus of bishop Giovanni Andrea Baglioni (died 1451), attributed to Urbano da Cortona.
The first chapel is dedicated to the Holy Ring, the relic of the wedding ring of Our Lady, was stolen from Chiusi in 1473. The chapel could once boast stunning frescoes by Pinturicchio and a painting by Perugino. It nowadays houses a reliquary made by Bino di Pietro and Federico and Cesarino del Roscetto, considered one of the goldsmiths' master-works of the Italian Renaissance.
The chapel on the right side of the presbitery leads to the sacristy, which is decorated with frescoes by Giovanni Antonio Pandolfi di Pesaro (1572-78).
Do not miss the outstanding wooden chorus' intarsia (1491), by Giuliano da Maiano and Domenico del Tasso.
The cathedral is open every day from 8.30 am to 6 pm.
Been there? Done that? Share your experience and tips!
Haven't visited yet? Have questions about Cathedral of San Lorenzo? Ask them here!
Address in Perugia:
Piazza Danti.
Ph. +39 075 572 38 32.