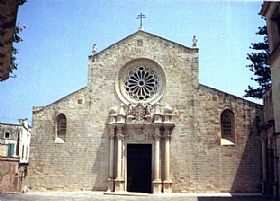 One of the hidden highlights of the Salento is the cathedral of Otranto. This lovely seaside town has a gem behind the Romanesque facade. While it looks like a plain facade, look closer at the columns and elegant rose window to see the delicately carved details that look like lace worked in stone. Step inside and let the wonderment of the scene delight you: the floor is completely covered in intricately arranged mosaics.
The church was built in 1068 on the sight of an ancient Roman domus (residence) and early temple. It was constructed in Byzantine and Romanesque style by the Normans. In 1480 it was stormed by the Turks who had besieged the city and the clerics and civilians who were inside were killed. The building was turned into a mosque and the frescoes from the 13th century mostly destroyed. The town was liberated a year later and the church restored and reconsecrated. It was granted basilica status in 1945 by Pope Pio XII.
The Cappella dei Martiri was instituted by Ferdinando I of Napoli in honor of the "Martyrs of Otranto," the 800 people who were killed by the Turks for not renouncing their faith. Their bones are arranged inside the chapel. The crypt contains a veritable forest of columns with differing capitals. The church's celebrated pipe organ can produce a plethora of sounds including flutes, birds, voices and more.
But the masterpiece is the eclectic collection of mosaics scenes that cover the floor of the church. Created by a monk named Pantaleone between 1163 and 1165, they are an impressive sight, and the most significant mosaic cycle of the Middle Ages. It is a "theological labyrinth" with sometimes unusual personal iconic interpretations by the artist, but the overall effect is incredible. At the center is the Tree of Life and the Garden of Eden. There are depictions of the zodiac, the months of the year, vices and virtues, heaven and hell, and the Biblical patriarchs, along with representations of mythology and animals.
Any trip to the Salento should include a stop in Otranto for the charming seaside atmosphere and this beautiful work of art.
Been there? Done that? Share your experience and tips!
Haven't visited yet? Have questions about Cathedral of Otranto? Ask them here!
Address in Otranto:
Via Basilica.