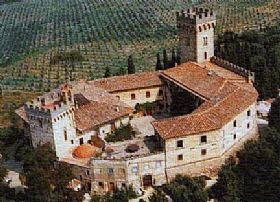 Poppiano has been inhabited since the Roman Age as probable residence of a Roman family belonging to the gens Papia or Poppeia.
During the Middle Ages the Counts Alberti di Certaldo became feudatories of Poppiano and here built the Castle. Later on, as witnessed by a a document dated 1199, one of the most important Tuscan families, the Guicciardini, received Poppiano and its castle by inheritance.
The Guicciardini family had, since 1200, a crucial role into the social, political and economic life in Florence and Tuscany. In 1416, the Emperor Sigismund of the House of Luxemburg elected Piero Guicciardini "Count Palatino", while Francesco Guicciardini, the famous historian (1483-1540), after holding important offices with the Medicean family as ambassador in Spain, Governor of Modena and Reggio, Head of the League of Cognac, moved to Florence and Poppiano where he wrote his most famous oeuvre: "Historia d'Italia".
The Castle of Poppiano was an imposing medieval construction, with a triple boundary wall, built around the year 1000 to be a fortress and external defence of Florence. The castle has been sacked several times and gradually destroyed throughout the ages, by the armed troops in war against Florence.
Here, in 1369 after the cruel battle of Fosso Armonico, nearby Cascina, took shelter the famous English captain of fortune, John Hawkwood.
Afterwards, the Castle of Poppiano was partially ruined in 1529, when Florence was besieged, as written by Francesco Guicciardini in his "Memories".
Around the first half of the XVI century, the Castle of Poppiano was used as holiday residence by Vincenzo Borghini, Tuscan philologist and historian, who worked in Florence at the court of Cosimo I de' Medici and his son Francesco I. He loved meeting here some of the most influential people of his time, like the painter architect and literate Giorgio Vasari.
The castle has undergone numerous changes and renovations, whose most visible one happened after a violent earthquake that destroyed the tower between 1811 and 1815.
Nowadays, as before, the Castle of Poppiano with the nearby church of St Biagio, is located uphill, homing the lovely hurban settlement with a great and unique view of the surrounding landscapes, rich in vegetation, vineyards and typical Tuscan olive groves, showing all its ancient impressiveness.
You will reach Poppiano from Siena: Highway Siena-Firenze, towards Firenze, exit San Donato and turn left onto SP101, towards Tavarnelle. Here turn right onto Via Cassia (SR 2) towards Florence and, after 2 km, on the top of a short hill, at the fork turn left onto SP81, direction San Pancrazio. Overcome San Pancrazio and, just before entering San Quirico turn left to Castello di Poppiano (1.5 Km).
From Florence: Via Volterrana. Porta Romana, Via Cassia (SR2). At Galluzzo turn right onto Via Volterrana (SP4), direction Montespertoli-Volterra. Go through Chiesanuova and approximately 3 Km after Cerbaia, almost on the top of the hill of Montagnana, at the crossroads turn left to San Quirico (SP81). Just after the village of San Quirico, turn right to Castello di Poppiano (1.5 Km).
Been there? Done that? Share your experience and tips!
Haven't visited yet? Have questions about Castle of Poppiano? Ask them here!
Address in Montespertoli:
Via Fezzana, 45.