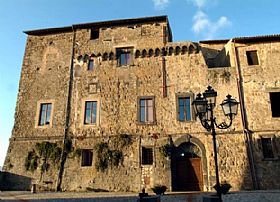 The Castle of Onano was built around the first half of the fifteenth century by Monaldeschi della Cervara. It was built in the style of the commital buildings of the time, austere and elegant, nearly square-shaped, a well-polished blocks of tuff. Its walls, very thick at the base, are crowned by a row of bow-shelves (brackets) all around, which serve to support the ultimate Guelph bulwark of blackbirds. The building in its original design, with no additions, was certainly more slender and more elegant in its lines.
Family Monaldeschi, as seal of their work, wanted to immediately affix their coat of arms in black stone. In the first half of the sixteenth century was built an addition on the west side of the building. Above this tower ended with a large terrace. The coat of arms on the edge of this construction, shows that it was built by Luca Gentile III della Cervara, and can thus be dated between 1524 and 1561.
Towards the end of the sixteenth century, there was made a further addition that rises to the east with the edge to feature the characteristic cutting blade. This tricuspid building was built from the house of Sforza. In it are the loopholes for guns and we know that the first firearms were used in the second half of the sixteenth century.
This stupendous bulwark has the main entrance in Piazza della Rocca. Probably in this place existed formerly a moat and a drawbridge as a last defense of the castle itself. Sforza also make internal changes that consisted more than anything in the customization of some rooms and apartments with tiles and wall paintings.
In 1712, it returns to the Apostolic Chamber. In 1725, by order of the Vatican Treasurer, were made works of consolidation and restoration of the building.
In the second half of the eighteenth century, the castle was granted to Joseph Denham and he did take away from the inside walls the precious majolica and coats of arms from the walls, so unfortunately there is no trace of them, except from some fragments.
After being owned by the daughter of Denham, Carlotta (known as Madame Carlotta by the locals, reason why the building took the name of the Palazzo Madama), the castle went by inheritance to Bosquet (heirs of her husband).
From 1870 to 1908, the Pacelli family bought the castle and here Eugenio Pacelli, the future Pope Pius XII, spent the summers of his childhood. Then he returned to being full of Bosquet.
The castle, after several donations, is owned by the City of Onano, and is municipal seat as well. The works of consolidation and restoration brought to light some wall paintings of the French school, made on behest of the family Bosquet in the nineteenth century.
Been there? Done that? Share your experience and tips!
Haven't visited yet? Have questions about Castle of Onano? Ask them here!
Address in Onano:
Via San Giovanni.