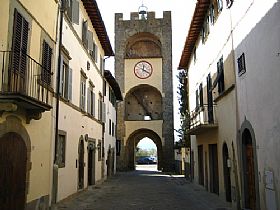 A town so charming it has been named "one of the most beautiful villages in Italy" (i borghi piu' belli d'Italia designation). Located half-way between Florence and Arezzo, Castelfranco di Sopra offers characteristic streets, beautiful buildings, and loads of atmosphere.
It is said that Hannibal passed through here during the Punic Wars, and the Roman road, Via Cassia, was paved at a crossroads here. But Castelfranco di Sopra was really founded as a town in 1299 by the Republic of Florence as a military outpost between Florence and the city-state of Arezzo. To encourage development, the Florentine Republic offered tax exemptions to people to move and reside there. The town's civic plan was built in Florence's "terra nuova" fashion, with grid-like streets in ancient Roman fashion, opening into grand piazzas with monumental public buildings.
The centerpiece of the town is the massive tower-gate that still allows entrance into Castelfranco. Once a defensive structure, it is now a characteristic hallmark with its pointed gateway. There are two other city gates still standing amidst the ancient walls. Piazza Vittorio Emanuele is the heart of the town, a wide square that is a popular gathering spot. The Palazzo Comunale (city hall), which dates to the 1300s sits on it, along with the church of San Filippo Neri. The Torre Campana - bell tower - still stands tall and proud.
There is an archeological museum for history buffs, and a lovely theater, the Teatro Wanda Capodaglio, for culture seekers. An interesting attraction is the Balze dell'Acqua Zolfina (literally, the crags of sulphur water), also known as the Fairy's Pyramids, a strange geological formation caused by water erosion of the earth. It's like a Tuscan canyon-lands. The trail that leads through prairies and canyons departs from just outside the walls of Castelfranco.
Castelfranco di Sopra is part-way between Florence and Arezzo, within reach of Montevarchi, Siena, and the towns of northern Umbria. The surrounding landscape is picturesque Tuscan hills with vineyards and olive groves, punctuated by hilltop villages. There are restaurants and country inns open for dining, along with some shops and supermarkets in town.
Been there? Done that? Share your experience and tips!
Haven't visited yet? Have questions about Castelfranco di Sopra? Ask them here!
Explore nearby towns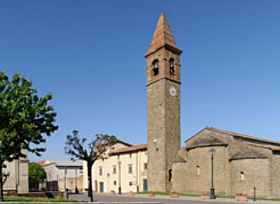 The City of Pian di Scò covers about 18 square kilometers on the slopes of Mount Pratomagno about 40 km from Arezzo and Florence.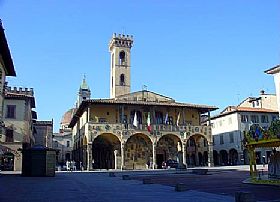 San Giovanni Valdarno is a quaint town in the Arno Valley, about halfway between Florence and Arezzo.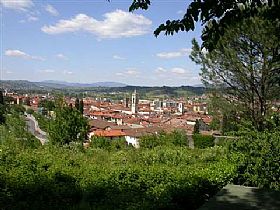 Let yourself be rocked by the natural beauty of Figline e Incisa Valdarno, two enchanting villages next to each other that rest at the foot of Mount Chianti, near Florence.