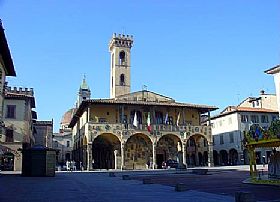 San Giovanni Valdarno is a quaint town in the Arno Valley, about halfway between Florence and Arezzo. Historically linked to Florence, it bears some of the same artistic and architectural highlights that its big sister has, with red tiled roofs, a domed cathedral and tall tower, along with palaces and buildings in a similar style. Artists and architects from San Giovanni studied and worked in Florence, converging the styles in both places. The town was founded in 1296 with a small core center and outlying castles, owned by feudal lords, that provided outpost protection in this border area wtih Arezzo along the river.
The Praetorian Palace, dating from the 13th century, was designed by Arnolfo di Cambio, who also worked on the design for the Basilica of Santa Maria dei Fiori and contributed sculptures to that church as well as the famed bronze statue of St. Peter in St. Peter's Basilica in the Vatican. The facade of the Palazzo Pretorio is plastered with plaques and crests from previous podesta' members, noble lords who commissioned artists like Della Robbia to do their emblems that still emblazon the building in a sort of immortal tribute. Besides Arnolfo, some other famous artists came from San Giovanni, including Masaccio, who studied under Brunelleschi and Donatello and had a great grasp of perspective and composition. He painted the Brancacci Chapel in Florence, along with his hometown friend, Masolino, who also worked with Ghiberti on the Baptistry doors in Florence.
In Piazza Masaccio, there is the Basilica of St Maria delle Grazie (15th century) with some terracottas by Giovanni della Robbia. You will find really interesting the museum of the Basilica, which contains great works of art, including the Annunciation by Beato Angelico from the monastery of Montecarlo. Noteworthy are the sixteenth-century Oratorio di San Lorenzo, and the fourteenth-century parish church of San Giovanni Battista.
The Piazza Masaccio marks the city's heart and streets with shops and cafes lead off of it. The center is lively and offers everything for daily life. Its location gives it an ideal position for reaching the art cities of Tuscany.
Been there? Done that? Share your experience and tips!
Haven't visited yet? Have questions about San Giovanni Valdarno? Ask them here!
Explore nearby towns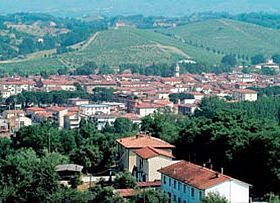 Terranuova means "new land" and this town was established by the Florentine Republic to establish a system of fortifications along the squirmish-prone "borderlands" near Arezzo.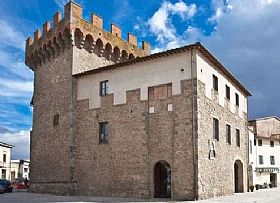 Montevarchi is blessed with a privileged position in the golden triangle between Florence, Siena and Arezzo.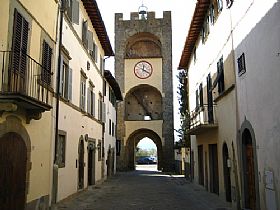 A town so charming it has been named "one of the most beautiful villages in Italy" (i borghi piu' belli d'Italia designation).