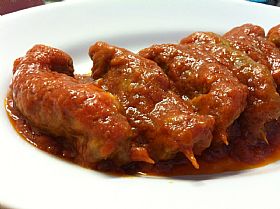 That quintessential dish, known to many as "brashul" is a crowd pleaser no matter how you say it.
Braciole (rolled up cutlets cooked in sauce)
There are various versions of "brazool" around the country, though probably the most heralded is from Napoli. This recipe comes from the tomes of Pellegrino Artusi, the most noted cookbook author in Italy. You can contrast this recipe with another Pugliese version we have here.
You can use thin beef or pork cutlets. His simple instructions are written here:
"I guarantee this recipe, supplied to me by a family from Santa Maria Capua Vetere, is genuine, " he wrote as an opening line.
Take a piece of cutlet and stick it with slivers of prosciutto, raisins, pine nuts, minced garlic and minced parsley, and lard [or a drizzle of olive oil]. Tie the meat with string and saute' it with a bit of finely minced onion in olive oil. Turn it frequently, and once it has browned on all sides, add 1 or 2 peeled, quartered, seeded tomatoes. When the tomatoes have fallen apart, add 1/2 cup of tomato sauce, a bit at a time. When almost all the liquid has been absorbed, add an inch of boiling water, season the meat with salt and pepper, and simmer it until done, turning it occasionally and replenishing the liquid as it evaporates. The sauce is poured over pasta, which is served Neapolitan style sprinkled with grated pecorino cheese, while the meat is served as a second course. In the absence of fresh tomatoes, use canned ones.
Been there? Done that? Share your experience and tips!
Haven't visited yet? Have questions about Braciole Recipe? Ask them here!