Basilica of Santa Caterina and its Frescos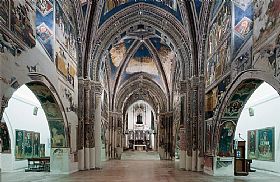 In the elegant town of Galatina, a spare Gothic-facade hides a riot of fabulous frescoes in the basilica. The church, dedicated to St. Catherine of Alexandria, was started in 1369 and completed in 1391, commissioned by Raimondello Orsini del Balzo, Prince of Taranto and lord of the entire Salento territory, who had recently returned from the Holy Land. Legend holds that he summited Mt. Sinai in devotion to the deceased saint, bent to kiss her skeletal hand, and swiped one of her fingers in the process, bringing it back with him in a silver reliquary.
Whatever the motive for the basilica, it is one of Puglia's rare examples of Gothic architecture. The facade is rather plain, but with Pugliese flair added around the rose window and the portals, with intricate carvings so delicate they resemble lace worked in stone. But step inside and your eyes will widen and your mouth will open in surprise: the entire interior is completely covered in colorful frescoes, in Giotto style by Francesco d'Arezzo. In fact, the magnitude of these frescoes is second only to the church that Giotto famously frescoed, St. Francis Basilica in Assisi. This basilica has three naves and cross vaulted ceilings, all vividly decorated with beautiful paintings depicting various Biblical scenes. There are stories from Genesis, the Seven Sacraments, the Archangels, the Apocalypse and much more. The basilica is a jaw-dropping wonder of art, well worth a detour when you're in the Salento.
The cloistered courtyard also contains frescoes, and there is a lovely sculpted 16th century nativity scene, as well. A small museum contains artifacts, art and other items related to the church.
Been there? Done that? Share your experience and tips!
Haven't visited yet? Have questions about Basilica of Santa Caterina and its Frescos? Ask them here!
Address in Galatina:
Piazza Orsini.