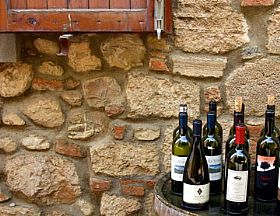 The island of Sardinia is a producer of some notable wines, even if they generally aren't well known overseas. Vines have been cultivated here for many millennia, first by the Semitic arrivals then the Cretes and the Phoenicians, growing the grapes in their various areas along the rocky coast. Tharros and Kalaris, two important Greek colonies, were known to produce fine wine several centuries BC. When the Punics arrived, they found a thriving wine production already in full swing. The Spanish widened the scope of wine production on the island, introducing vine training systems and new aging techniques.
Today, Sardegna isn't a massive producer but the wines they put out are of good quality and unusual, regional vintages.
REDS
CANNONAU. Probably the best known of Sardinia's wines, this ruby red is considered a twin of Spanish Grenache. It is structured, warm and silky with flavors of red fruits and spices.
CARIGNANO DEL SULCIS. Probably brought by the Phoenician founders of Sulcis, it is a full-bodied balanced red, with floral nose and good acidity. Best with long aging.
ALGHERO DOC RED. The red version of Alghero's DOC designated wine is ruby and clear with orange highlights, a spicy fragrance, light tannins and good structure. It is a blend of Cagnulari, Sangiovese and Cabernet.
There is a ROSATO version of Alghero DOC that uses the same grape blend as the red but is made as a rose'.
WHITES
NURAGUS DI CAGLIARI DOC. One of the oldest vintages on the island, its name is thought to derive from the nuraghi culture and constructions of Sardinia. It is a straw colored white with gold tints, soft and slightly acidic; it is made into a sparkling wine as well.
VERMENTINO. Probably the best known of Sardegna's white wines, it is crisp and tangy with white fruits and citrus notes.
MOSCATO. A sweet wine that is highly fragrant, juicy and fruity, usually served as a dessert wine.
Been there? Done that? Share your experience and tips!
Haven't visited yet? Have questions about Wines of Sardinia? Ask them here!