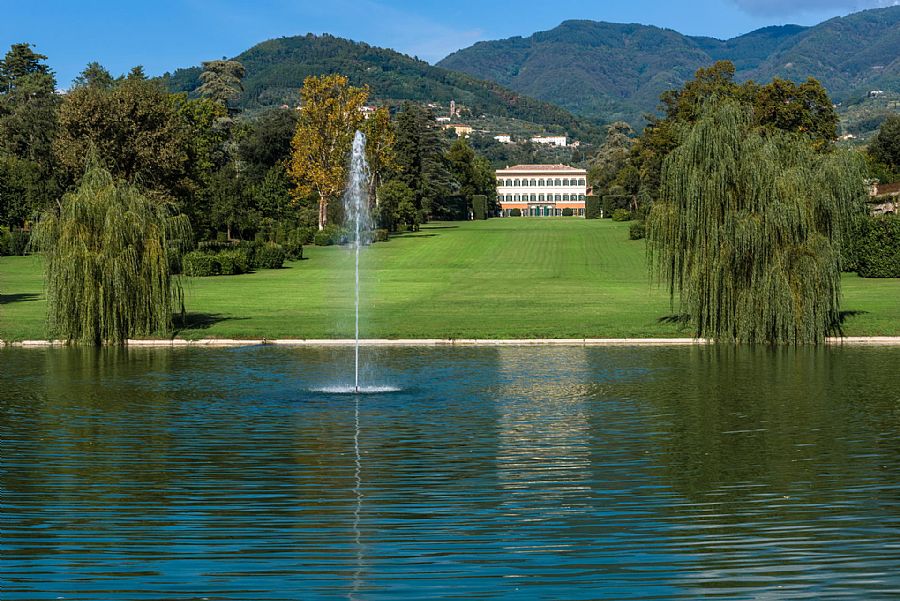 Lucca is a gem of a city in Tuscany with many beautiful villas, but one of its most prestigious is Villa Marlia. The neoclassic villa was originally built in late Medieval/early Renaissance style in 1517 for the noble Buonvisi family. It was passed through a few hands before being purchased by Elisa Bonaparte Baciocchi, the sister of Napoleon Bonaparte, who gave the territory to her as her reign. Elisa went about refacing the villa and expanding the gardens as would be befitting a princess, creating a delightful landscape in the process.
She took over the adjacent Villa del Vescovo (bishop's villa) and acquired more land, extending the park to 16 hectares (more than 39 acres). The result is an extensive and gorgeous garden that is considered one of the most beautiful in Italy. She brought in Carrara marble for sculptures, and incorporated an English style design with water pools, fountains, trimmed hedgerows, formal landscaped spaces, and delightful corners. There is the green and whimsical Teatro di Verzura, with a stage and tiers, where seating is trimmed boxwood, where Paganini performed for the princess; and the classical beauty of the Teatro dell'Acqua, with a semicircular stage backed by columns and statues, fronted by a fountain. There are little lakes, and architectural jewels in the midst. You wouldn't guess that the stately Palazzina d'Orologio (Clock Palace), so-named for the timepiece embedded on its facade, was built by Bonaparte to house the property's stables and farm equipment.
In 1814 Elisa was forced to leave her dominion with the fall of her brother from power. The Principate was assigned to Carlo Ludovico and Villa Marlia was used as a summer residence for the new court. When Lucca was annexed to the Grand Duchy of Toscana, Lucca's role and status declined, and the house went through several changes of owners. Today it has been restored and the park is open for visitors to enjoy the gorgeous grounds.
The Garden of Villa Marlia is formally known as the Parco Villa Reale and is open from 10:00 AM til 6:00 PM from March 1st to November 2nd. In the wintertime visits can be arranged by advance booking.
(photo by pgmedia.it)
Been there? Done that? Share your experience and tips!
Haven't visited yet? Have questions about Villa Reale Marlia? Ask them here!
Address in Capannori:
Via Fraga Alta, 2 Marlia.
Ph. (+39) 058 330 108.