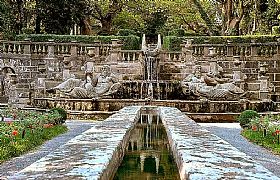 Villa Lante near Viterbo is an enchanting place that was designed to delight. The focus was placed more heavily on the gardens than the residence, which rather than one opulent villa, was built as two smaller pavilion houses that become part of the overall landscape.
Located near Bomarzo and its fascinating park of "monsters," this, by contrast, is named among the most beautiful gardens in Italy, and it is indeed! The property was commissioned by Cardinal Gianfrancesco Bambara, who greatly admired the Villa d'Este and its water works, so he brought in Sienese architect and hydro-engineer Tommaso Ghinucci, who worked on the fountains of that grand villa. Here he designed the gardens to have structured levels and settings to have everything center on the fountains and the concept of water. There are waterfalls, artistic fountains and playful water games. The cardinal had a sense of humor as he had installed hidden contraptions and concealed jets that would spray unsuspecting guests. An ingenious innovation was the "Mensa del Cardinale" -or Cardinal's Table, a vast stone banquet table for outdoor feasts with a water trough in the middle of table to keep wine cool and a stream below for guests to soak their feet and keep cool while they dined. Apparently the cardinal would also have a little fun at his guests expense as there were hidden jets in the table, too, that squirted water below the table onto his companions' laps!
The Fountain degli Appenini is edged with sculptures of shrimp, the heraldic symbol of the Gambara's, a symbol that repeats throughout the park. There was also a "Neviera," or icebox, where snow was kept provide sorbets and cold drinks.
Another highlight is the garden's elaborate labyrinths, carefully carved out of hedgerows in ornate patterns. Throughout the property you'll also find woods and meadows, and other lovely features that will convince you this truly a unique and beautiful spot.
The villa buildings were built with lower level loggias to make them like an extension of the gardens. Even the frescoes evoke the outdoors, especially the one vaulted ceiling painted like an aviary.
The Villa Lante is open from 9:00 AM til 7:30 PM in summer and from 9:00 AM til 4:00 PM in winter. It is located at the top of the medieval town of Bagnaia, just a few miles from Viterbo.
Been there? Done that? Share your experience and tips!
Haven't visited yet? Have questions about Villa Lante? Ask them here!
Address in Viterbo:
Via Jacopo Barozzi, 71.
Ph. (+39) 076 128 8008.