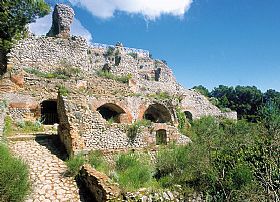 The Roman emperors Augustus and Tiberius were the first estimators of the beauties in Capri. The ruins of their sumptuous residences have survived many spoliations throughout the ages. According to the tradition, Tiberius Claudio loved Capri so much to build there twelve villas, each one dedicated to a pagan god of the time. The biggest and richest one is Villa Jovis, built in honour of the king of the gods. Tiberius decided to spend here the last years of his kingdom at any cost, and here died in 37 AD.
The entire architectural complex extends for about 7000 square meters and is yet immersed into a luxuriant vegetation, except for the belvedere with a gorgeous sea view of Ieranto Bay and Punta Campanella. The belvedere faces a 300 meters high cliff known as "salto di Tiberio". One of the thousands of legends about Tiberius says that his enemies and unwelcome guests were thrown down to scarp. The villa's edifices are set around four huge cisterns with barrel vaults that satisfied all the water requirements, even for thermal and rural use. One of the most interesting architectural elements is indeed the sophisticated rainwater collection system. On the west side, along the slope degrading to the centre of the island, you will notice the crumbling accommodations for servants.
The thermal baths, with the usual division in frigidarium, tepidarium, calidarium and praefurnium (to heat water) face south. East and northwards, close to the cliff, are the residential houses where the emperor enjoyed a sensational panorama. The large throne hall, closed with a hemicycle facing the loggia, the official halls give the idea of the ancient magnificence. Marbles, mosaics and decorations were unfortunately took out and used later on to build even out of Capri. On the edge of the gorge, stands Torre del Faro, once used to communicate, through luminous signals, with the outpost in Punta Campanella, which was linked to the great Roman fleet in Campo Miseno.
The tower was reused as lighthouse during the Middle Ages by a small community of hermit monks. On the western side of Villa Jovis rises the massive Specularium: astronomic observatory built for Trasillo, imperial counsellor and astronomer.
Been there? Done that? Share your experience and tips!
Haven't visited yet? Have questions about Villa Jovis? Ask them here!
Address in Capri:
Viale Amedeo Maturi.
Ph. +39 081 837 53 08.