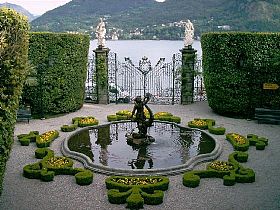 Villa Carlotta is a unique place of rare beauty, where natural masterpieces and incredible works of human intellect live together in perfect harmony into over 70000 square metres between stunning gardens and museums. The splendid residence was commissioned at the end of the XVII century by the marquis Giorgio Clerici: an imposing but solid building, surrounded by a marvellous Italian style garden with statues, flights of steps and fountains. It was built into a natural depression between Lake Como and the mountains, in front of a breathtaking landscape on the dolomitic Grigne and Bellagio's peninsula.
The subsequent noble owner, Gian Battista Sommariva, made it reach the maximum splendour: embellishing the villa with great works of art, it became a landmark of Grand Tour routes. Sommariva, who was a notable entrepreneur and art collector, acquired the property in Tremezzo at the beginning of the XIX century.
He strongly wanted part of the garden to be transformed into an extraordinary romantic park and the villa amazingly enriched by oeuvres by Canova, Thorvaldsen and Hayez: Love and Psyche, Palamedes, Tersicora, The last kiss of Juliet and Romeo are just some of the masterpieces that make this villa an undisputed temple of the XIX century art.
In the middle of 1800, princess Marianna di Nassau donated the property to her daughter Carlotta, as wedding gift, as she was marrying Giorgio II, Duchy of Sachsen-Meiningen. Giorgio was keen on botany and did his best to develop and enlarge the lovely landscape garden, whose high historic and environmental value is nowadays renowned worldwide.
The soil's fertility, due to a particularly acid sediment left by ancient glaciers, allows an astonishing spring flowering of more than 150 marvellous varieties of rhododendrons and azaleas. However any time of the year is perfect and worth a visit: in one of the itineraries, among ancient species of camellias, citrons and secular sequoias, huge planes ans exotic essences amazing meeting follow one another: the rocky garden, the valley of ferns, the rhododendrons wood, the bamboo garden, the museum of agricultural tools and mesmerizing views that justify the international fame of this place, from the XIX century considered a "slice of heaven".
Villa Carlotta can be visited:
From 15 March and all October long open daily 9.00 am - 4.30 pm (the building will be closed from 12.00 to 2 pm)
From April until September open daily 9.00 am - 6.00 pm
Ticket prices
Adults: €8,00
Seniors (over 65): €4,00
Students: €4,00
Children (under 6): free entrance
How to reach Villa Carlotta...
By car: Highway A9 Milano - Laghi from Milan to Chiasso/Switzerland, exit Como Nord, then follow the indication for Menaggio- Tremezzo (Street n. 340). Tremezzo is about 30 km from Como.
By bus: Every hour from Como, St Agostino square, direction Menaggio-Colico, stop at Tremezzo.
By boat: From Bellagio and Varenna, about every 20 minutes (also with car on board). From Como, about every hour
Been there? Done that? Share your experience and tips!
Haven't visited yet? Have questions about Villa Carlotta? Ask them here!
Ph. +39 0344 40405.
Fax +39 0344 43689.