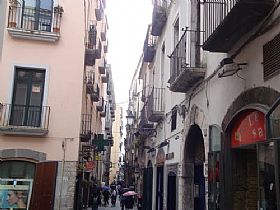 The most character-filled street in Salerno is the historic Via dei Mercanti. This historic street crosses the entire centro storico, and was the principle avenue of commerce in the Medieval period. It is still the center of life for the old town, with lots of shops, boutiques and eateries occupying the grand palazzi and antique buildings that line up along the lane.
The slender street starts at the Arco di Arechi, a gateway built by the Longobards that tunnels its way into the historic quarter. On the right side the arch is supported by an ancient Corinthian style column that was originally part of a pagan temple. Buildings outline the lane with fanciful wrought iron balconies, flower boxes, painted shutters and laundry gentle billowing in the breeze. Archways cross overhead, and even narrower alleyways intersect it, leading off to mysterious destinations.
Via dei Mercanti wends along for about a kilometer until it reaches Piazza Portanova, where the "modern" Salerno begins. Here the street opens up to a wider avenue known as Corso Vittorio Emanuele and the main shopping district of the city.
Along the way are Salerno's most prestigious palaces, like Palazzo Genovese, which was built in 1744 in late Baroque style. It is fronted with the Fontana dei Pesci (Fountain of the Fish) by artist/architect, Luigi Vanvitelli. The Palazzo Pinto, near the cathedral, is a Renaissance palace that housed the princes of Sanseverino. Today is the home of the city's art gallery (the "pinacoteca") where you'll find masterpieces from the Renaissance period through the early 1900s.
The Church of the Santissimo Crocifisso is worth a visit, and the church of San Giorgio is an opulent Baroque gem with a wealth of frescoes. The Cathedral of San Matteo is just a few steps off the Via dei Mercanti in Via Duomo, and contains the remains of St. Matthew, who is the patron saint of Salerno.
Been there? Done that? Share your experience and tips!
Haven't visited yet? Have questions about Via dei Mercanti? Ask them here!
Address in Salerno:
Via dei Mercanti.