The Rock Paths in Southern Tuscany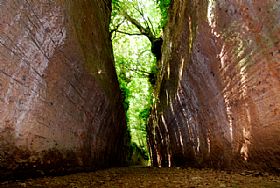 The Etruscans left more than just burial chambers in southern Tuscany, they also left a fascinating network of pathways called the Vie Cave. Despite the name, the vie cave (prounced vee-ay cah-vay) aren't caves; they're tunnel-like passageways that are carved out the tufa rock, deep canyons that were hewn out to form paths. The narrow lanes are open at the top, but are deep chasms meandering through the hills and gulleys of the landscape. They are steep in places, with high walls that block the sun, and yet are intriguing and unique.
The vie cave network linked towns, religious sites and necropoli, chiseled by hand without mechanical means. The reasons for these roads are unclear. In the Middle Ages, the stone channels were put to use as aqueducts. Today, they're pleasant paths to wander and enjoy the cool ambiance away from the scorching sun for a day of hiking in a unique setting. It will be one of the most unusual hikes you're likely to do!
The paths burrow through the rocks and geography between Sovana, Sorano and Pitigliano. There is a Vie Cave Archeological Park in Sorano where you can get oriented, plan your walk, and pick up maps.
Been there? Done that? Share your experience and tips!
Haven't visited yet? Have questions about The Rock Paths in Southern Tuscany? Ask them here!