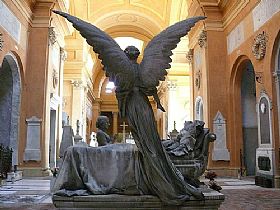 A cemetery might seem like a strange tourist attraction, but this one is truly one of Bologna's must-see sights. The Certosa di Bologna was a Carthusian monastery established in 1334. It expanded and flourished, and became an expansive complex with a series of internal courtyards, gardens, buildings for lodgings amidst chapels and a larger church. In 1367 the encircling walls were built to make it an enclosed cloistered community. It became one of the largest and most beautiful monasteries of the order.
The monastery was suppressed in 1797 when Napoleon took control. In 1801, the complex was transformed into the civic cemetery, and it quickly became the favored spot for eternal interment by the nobles and bourgeois of Bologna who began to build monumental tombs and memorials within the various cloisters. Some of the chapels were also turned into burial spaces, and in keeping with Bologna's penchant for porticos, these were also added. The result is a fascinating place with beautiful sculptures and artwork dedicated to the deceased elite of the area.
There is much to see in what has become an open-air museum of sorts, that has attracted visitors for nearly two centuries. The Certosa and Monumental Cemetery of Bologna is open from 7:00 AM til 6:00 PM on Mondays through Saturdays; from 7:00 AM til 12:30 PM on Sundays. Following are some of the highlights.
Campo Carducci - named for nationally-renowned poet Giosue' Carducci, who is buried here with his family, along with composer and other illustrious folks in a park area.
Campo Ospedali - Here you'll find the Monument to the Fallen Partisans of WWII in what had originally been a vegetable patch with a pond stocked with fish for the monks' meals. At the beginning of the 1900s it was turned into crypts and family chapels.
Chiostro III, or Third Cloister - Probably the most famous part, it is loaded with artwork and sculptures
Chiostro VII - Also known as the Gallery of the Angels, this was once a neoclassic chapel with barrel-vaulted ceiling. Here you'll find the impressive and touching statue of the Angel that is widely featured in photos.
Chiostro Maggiore - a large swath that had once served as gardens and vineyards for the monks, here you'll find monuments and tombs dedicated to famous people who made their marks in the arts and musical fields.
Cimitero Ebraico - This is the section of the cemetery set apart for the Jewish population of Bologna
Cimitero Moderno - now takes over the largest part of the complex in what is the modern (and much less inspiring) part of the cemetery
Been there? Done that? Share your experience and tips!
Haven't visited yet? Have questions about The Certosa of Bologna? Ask them here!
Address in Bologna:
Via della Certosa, 18.
Ph. (+39) 051 225 583.