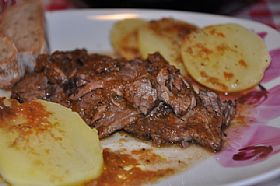 Stracotto – Tuscan Pot Roast Recipe
This Florentine recipe is basically the Italian equivalent of a pot roast – beef that has been cooked a long time over low heat to create a savory and delectably tender dish. The vegetables, instead of being served as pieces like our traditional roast, are blendered into a silky sauce.
Beef roast (eye of round, rump, chuck)
1 onion, chopped
2 carrots, peeled and chopped
2 stalks celery, chopped
2 cloves garlic, minced
1 cup red wine
1 cup chopped seeded tomatoes (canned is fine)
Salt and pepper
Handful of parsley, minced
Put a bit of olive oil in a spacious casserole pan. Place the roast in the pan then add in the chopped vegetables. Saute for about 10 minutes.
Add the wine, let the pan deglaze a minute, then add the tomatoes, salt and pepper and parsley. Cover and simmer on low for about 2 hours, until the meat is tender and the vegetables are soft. Add more wine as needed to keep it from drying out while it cooks.
Remove the meat to a cutting board and slice.
Place the vegetables and remaining liquid into a blender or food processor (or use an immersion blender) to puree it into a smooth sauce. Add wine if needed to make a smooth consistency. Drizzle over the sliced meat and serve.
This dish can be prepared a day in advance and then reheated in the sauce to serve.
Been there? Done that? Share your experience and tips!
Haven't visited yet? Have questions about Stracotto? Ask them here!