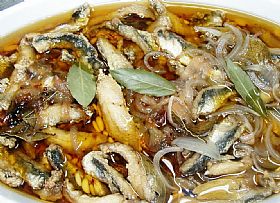 The ships ploughing through the Mediterranean sea in ancient times had plenty of spices that brought in Venice not only richness, but also exotic flavours and smells. The Venetian cuisine endorsed some Eastern food concepts, inventing brand-new dishes: Sardèle in Saòr is a great example of well-balanced vinegary, sweet and salty food.
One of the oldest dishes in Venice, still very popular, based of fried sardines and onions, marinated in vinegar and salt for 24 hours minimum, better 48.
The storage technique to marinate the fish dated back to the Roman age: the fish was extremely important to fishermen and sailors, which used to store it on board for several days... even weeks! This special recipe includes vinegar, salt and onions helping to preserve fish. The onion is rich in vitamin C, useful to prevent the scorbutus, quite frequently got by the sea people.
You can eat "sardèle in saòr" any time of the year and easily find them as 'cicheti' in the local taverns.
Ingredients
For 6 persons (incidental leftovers can be kept in the fridge for several days):
1 kg sardines
1 kg thinly minced onions
flour, salt and pepper
seed oil
200 gr white wine vinegar
4 laurel leaves
Preparation
Use a deep glass or earthenware container to marinate, capable enough to hold several fish layers. Wash the sardines in cold water, strain and drain on paper towels.
Flour them and take off the flour in excess. Heat the oil to 300 degrees F in a deep, heavy saucepan. Drop the sardines into the oil and let them fry until lightly browned, as they should be quite soft to bite, then drain on paper towels and let them cool.
Pour two tablespoons of olive oil in a medium-large saucepan, add onions, vinegar, laurel and sprinkle with salt and pepper, stirring every now and then for about 45 minutes.
Place a thin layer of onions at the bottom of the container, then add a layer of sardines. Repeat the process with another layer of onions and so on. The last one must be a onions' layer. Cover the sheet and let the sardines rest at a room temperature for 24 hours minimum, better if 48. Serve them with some cool or hot polenta and a good glass of white local wine!
Been there? Done that? Share your experience and tips!
Haven't visited yet? Have questions about Sardèle in Saòr? Ask them here!