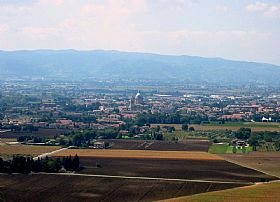 Below the hill town of Assisi on the Valle Umbra plain is the town of Santa Maria degli Angeli, named for the basilica built here. The church is a papal basilica around which a town grew.
The town started as a wooded tract of land where St. Benedict built a chapel in 576. It eventually fell into disuse and the land, known as Cerreto di Porziuncola, was ceded to Francis of Assisi in the 12th century. Francis and his followers rebuilt the ruins of the chapel by hand, along with rough stone lodgings and prayer rooms next to it. Their retreat became known simply as Il Porziuncola. It was here that St. Francis founded the order of the Friars Minor and where, in 1211, St. Clare embraced a monastic life and started her women's order with similar philosophy as the Franciscans.
During prayer, St. Francis had a vision of Jesus saying that anyone who came here humbly and penitent would receive forgiveness. Not long after, pilgrims started arriving for this indulgence and to meet the gentle Francis and his friars. It was in a room here that St. Francis died in 1226.
The Basilica of Santa Maria degli Angeli was built right over the chapel to protect it, becoming one of the largest churches in Christendom. The dome is directly above the Porziuncola. Its purpose was also to acccomodate the vast numbers of pilgrims who were arriving -an estimated 100,000 in 1582! A palazzo was built next door as an inn, and monasteries and convents and rooming houses were also springing up. The fountain of the 26 spouts was built by the Medicis in 1610, and a rose garden was planted next door. There is a nice museum for the basilica, too.
Today, the town is a suburb of Assisi with apartment houses, and there are still quite a few religious lodgings and hotels. The church draws many visitors, and people going to Assisi mostly pass through Santa Maria degli Angeli, as well.
In town, you'll find restaurants and shopping mingled in the apartment homes.
Been there? Done that? Share your experience and tips!
Haven't visited yet? Have questions about Santa Maria degli Angeli? Ask them here!
Explore nearby towns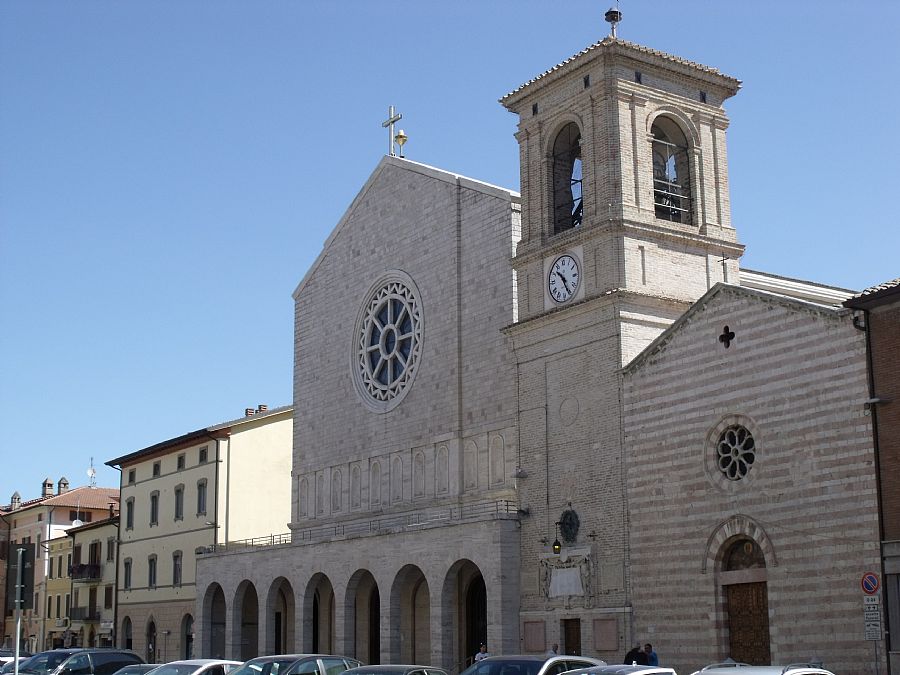 Situated along the Chiascio River, the town of Bastia Umbra is in the very heart of Umbria.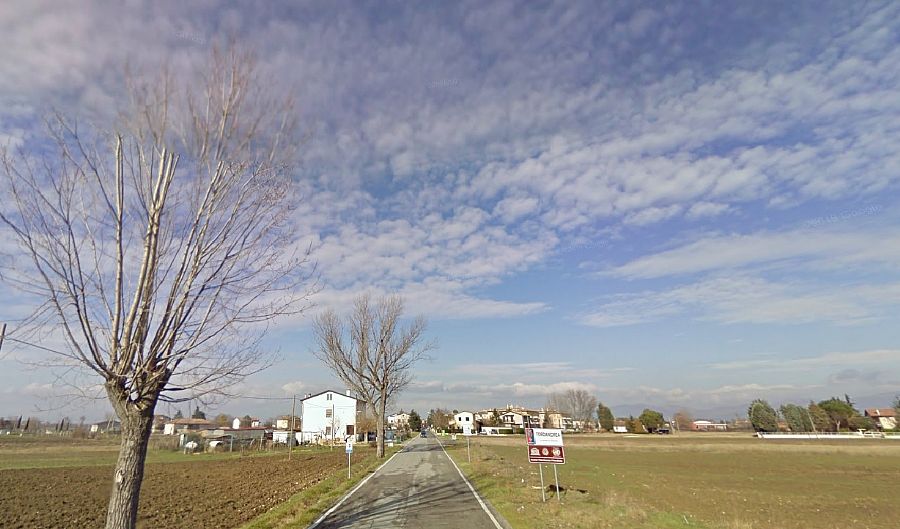 A hamlet below Assisi and part of the city's municipality, the town was part of the protective network of Assisi in the Middle Ages.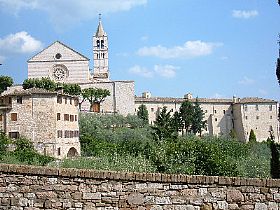 Assisi is renowned for its beautiful setting and its famous hometown boy who became a symbol for peace and virtue, and who also became a saint, St Francis.