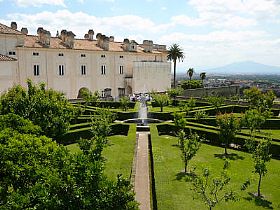 The impressive monumental complex of San Leucio was conceived as a "utopia" town by Bourbon King Ferdinando IV. He took the land that his father, Charles III, had purchased as a hunting grounds and summer retreat for the Royal Family, and decided to create a complete village complex representing the ideal city (called Ferdinandopoli, or Ferdinand Land), to rival Versailles and the Royal Palace in Madrid, and provide a combined residential-workplace setting for his silk manufacturing. San Leucio is the living example of how the Bourbons built brand-new hamlets to test new autonomous industrial factories. It was Ferdinand's vision of the social Enlightenment utopia.
Set on the hill near Caserta with a beautiful view looking down to the sea, it is called the Belvedere for its setting. There were hunting lodges, the factories, housing for the workers, a church, and a royal palace. Formal gardens, woods, and workshops were part of the landscape. In his book, Ferdinando IV spoke of his concern for the education of his workers' children, for the support of the families, the security of work for everyone, that every man and woman can do their work with dignity. Silk fabrics from here were sent to the Royal Palace in Rome, Buckingham Palace, and the White House, along with countless noble homes around Italy. It was the largest silk and embroidery facility in Italy in its time.
Today you can visit and see the various aspects of the village. The Silk Museum shows the equipment and looms, how the silk worms were bred and kept, and the mills. The Royal Apartments is a regal residence sumptuously furnished and designed. Formal gardens lie outside. The workers village was arranged on both sides of the gateway with comfortable homes that could house 37 families, designed for harmony with the landscape. It's a wonderful opportunity to get a glimpse of a by-gone age.
The era comes to life every July when they host the Palio della Seta (Silk Festival) with an opulent parade in resplendent costumes.
Hours: Open with guided tours from 9:00 AM til 6:00 PM; last entrance at 4:30 PM. Closed Tuesdays.
Been there? Done that? Share your experience and tips!
Haven't visited yet? Have questions about San Leucio Complex? Ask them here!
Address in Caserta:
Via del Setificio Superiore.
Ph. (+39) 082 330 1817.