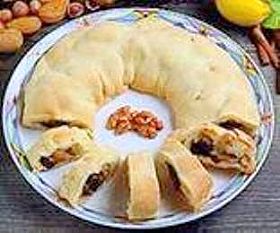 Traditional Umbrian dessert so-called in Foligno, Assisi and Spello, up to the mountains surrounding Foligno it is known as "attorta" and "ntorta", in the town of Trevi.
The Rocciata has very old origins, probably dating back to the ancient Umbri: the Eugubine Tables describe indeed a special type of food hugely similar to the Rocciata and used during holy rituals dedicated to the god Hondo Cerfio. Because of the similarity with the "strudel", we cannot exclude even the gastronomical influence of the Longobards, that used to have their own duchy in this area during the High Middle Ages.
The delicious dessert is usually prepared in winter because of both high-caloric content and the presence of fresh walnuts (basic element).
Ingredients for 10-12 persons:
300 gr white flour;
100 gr sugar;
olive oil;
100 gr raisins;
250 gr apples;
100 gr peeled almonds;
50 gr walnut kernels;
150 gr dried figs;
100 gr soft prunes;
Vin Santo (sweet white raisin wine);
powdered cinnamon;
icing sugar;
lemon;
salt.
Sieve the flour onto the baking-board, mixing it with a pinch of salt, 50 grams of sugar and 5 table-spoons of olive oil and start kneading. Add, little by little, as much lukewarm water as needed to make a thick dough. Make a ball, cover with a cotton napkin and make it rest for 30 minutes.
Wash the raisins and put them to soak into Vin Santo. Leave the almonds to soak for 2-3 minutes into boiling water, then strain them and mince together with the walnut kernels. Pour the mixture into a large bowl, adding figs and prunes previously cut into thin slices.
Wash and dry the apples, peel them up, take off the cores, then cut them into very thin slices and sprinkle with lemon juice. Place them into a tureen, with two spoonfuls of sugar and a pinch of cinnamon, pour 4 tablespoons of Vin Santo and amalgamate the ingredients all together.
Heat the oven at 180° C, paint the plate with olive oil. Spread thinly, onto a floured napkin, the dough into a rectangular shape. Put the mixture onto the dough, leaving a 2 centimetres large border all around it. Start rolling the dough from the longest side, helping yourself with the napkin and make a sort of "sausage". Dust it with some icing sugar through a small strainer. Place it into the plate and bake for one hour.
Serve it tepid or cool!
Been there? Done that? Share your experience and tips!
Haven't visited yet? Have questions about Rocciata di Assisi? Ask them here!