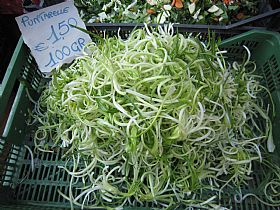 You've probably seen them in markets around Rome, crispy curly veggies, and wondered what are those things? The puntarelle are the Roman vegetables par excellence. It's the stem of a variety of chicory called Catalogna. The preparation is rather long and complicated, but fortunately the puntarelle are sold ready to go on tables of all Roman markets and in vegetable stands. The shoots are cut into long thin strips and put into a bowl full of iced water so they curl. The puntarelle are eaten in salads, seasoned with a recipe that dates back to Roman times.
In a mortar, make a pesto with one or more cloves of garlic, washed and boned anchovies, few drops of vinegar and lots of extra virgin olive oil, salt and pepper. (Or whirl it all in the food processor!)
Ingredients
800 grams of Catalogna (chicory)
1 clove garlic
8 anchovy filets (or paste from a tube)
1 or 2 tablespoons of vinegar
4 or 5 tablespoons extra virgin olive oil
salt and pepper
Procedure
Clean Catalogna. Depending on the size and length of leaves, cut into three or four strips. Wash each of these strips and soak in cold water until they curl. Drain well.
Crush the garlic and anchovies in a mortar or a blender, mix with oil and vinegar until it forms a smooth but thick cream. Season with salt and pepper. Place the chicory in a bowl and pour over the sauce, let marinate for an hour in a cool place, before serving sprinkle with pepper.
If you're not fortunate enough to have a Roman vegetable vendor clean them for you, see this helpful video on how to prepare the puntarelle.
Been there? Done that? Share your experience and tips!
Haven't visited yet? Have questions about Puntarelle alla Romana? Ask them here!