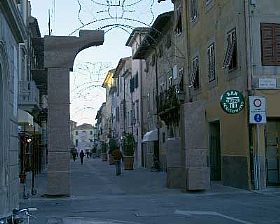 The town of Ponsacco is one of the larger in the area. Located between Livorno and Florence, it sat at the border of the Florentine Republic and Pisa, putting it into the frequent crossfire between the two feuding city-states. It was established as a fortified castle outpost, and was the target of frequent assaults, sackings and damage. It bounced back and forth between the two powers often, before finally landing in the hands of Florence. It became a feudal estate and was placed under the Medici domain in the Renaissance period.
Its name derives from Ponte di Sacco (Bridge on the Sacco), shortened over the years. It has a lively atmosphere with a bustling center that offers wide avenues, shops, and restaurants. The graceful ancient bell tower is still the centerpiece of the town, and there are several churches with minor but lovely artwork to admire. There are castles and villas dotting the surrounding area, most notably the Villa Medicea at Camugliano, only three kilometers away, an impressive palace built by the Medici family.
Today's Ponsacco is home to many craftsmen, especially woodworkers. They produce fine furnishings that are sold all over Italy.
Been there? Done that? Share your experience and tips!
Haven't visited yet? Have questions about Ponsacco? Ask them here!