Piazza Grande Montepulciano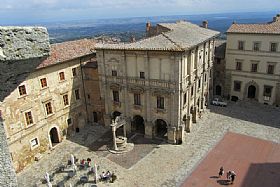 The center of civic and social life in Montepulciano is the beautiful monumental square known as Piazza Grande. It sits at the highest point of the city and offers one of the precious few flat expanses in this hill town known for its sloped streets. The atmosphere here is lively with the sidewalk cafes, a cozy space enclosed within the ring of elegant buildings.
This piazza is home to Montepulciano's cathedral and its most important palazzi that had been built by the city's most influential families. The Palazzo Comunale, or town hall, with its clock tower, bears a striking resemblance to the Palazzo Vecchio in Florence, by design and order of Cosimo de Medici. Climb the tower for a stunning view of the Tuscan countryside. Palazzo Contucci was a stately Renaissance residence for that noble family with its internal courtyard and frescoed Sala della Festa, by Andrea Pozzo. It is still owned by the Contucci family, who helped make Vino Nobile di Montepulciano a grand wine. You can visit the family winery here. That palace, like the Palazzo Ricci, was designed by Sangallo the Elder. The travertine Palazzo Nobile Tarugi was the seat of the Tarugi family, a glorious Renaissance structure with portico that was renovated by da Vignola.
The elegance of the Piazza Grande is contrasted with the rough brick facade of the Duomo. Started in 1570, it wasn't finished until 1680, and even then the facade that had been designed for the building was never completed. The unadorned brick gives the church a more ancient look. Step inside, however, and you'll find a glorious, airy church. Don't miss the baptismal font to the left, backed by a beautiful, vivid painted terra cotta sculpture by Della Robbia. The stunning triptych is another highlight, by Taddeo di Bartolo.
In the piazza you'll also find the fancy fountain called Il Pozzo dei Grifi e dei Leoni, a glorified water well that is topped by an architrave that is accented by the lions holding a crest with the Medici family symbol on one side the iris of Florence on the other. It is further decorated with the griffin symbol.
Montepulciano and Piazza Grande were recently highlighted in film, playing the primary setting for New Moon, in the Twilight series.
Been there? Done that? Share your experience and tips!
Haven't visited yet? Have questions about Piazza Grande Montepulciano? Ask them here!
Address in Montepulciano:
Piazza Grande.