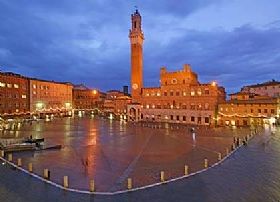 The Piazza del Campo is one of the most representative and celebrated medieval squares of the Italian Peninsula. It is located were the ancient Roman forum was and it still is the topographic centre of the city of Siena.
It owes its fame mainly thanks to its original valve concave shape - like a shell - a similarity also suggested by the long strips of light radiating stone that divide the 14th century floor of brick in a herringbone pattern, which reproduces the striations of a seashell.
Piazza del Campo exploits the natural hollow formed by the three hills on which stands the city, giving to the whole picture a very scenic effect, to which contributes a full circle of 14th century building, partly crenellated and turreted, that surrounds the square, dividing it from the main streets, also highlighting its primary function of representation.
The whole square converges towards the Palazzo Pubblico, which is the most prominent element, and whose nice brow, slightly curved, spotted by arches and two rows of triple lancet window, contribute to the unique scene offered by this square. The palace, built between 1297 and 1343, is partly made in stone and partly in brick, and represents one of the most elegant creations of the civil Gothic and well embodies the strong and kind spirit of the wonderful city of Siena. One of the most expressive symbols of this spirit is the famous Torre del Mangia, with its high flower stalk that gives a vivid and lively presence in the square. The latter gets even more beautiful thanks to other works of art, like the 14th century chapel at the foot of Torre del Mangia and the monumental Fonte Gaia (a Jacopo della Quercia's masterpiece), at the centre of the emicycle, which was unfortunately damaged and has been substituted with a copy.
This lovely field (that even Dante Alighieri mentioned in the Purgatory), has been the main scene of everyday life during the Senese Republic. The passes and narrow alleys that lead to the piazza yet offer mutable prospects of the buildings around it. The famous Palio di Siena is the most lively and vibrant event recalling those times.
Been there? Done that? Share your experience and tips!
Haven't visited yet? Have questions about Piazza del Campo? Ask them here!
Address in Siena:
Piazza del Campo.