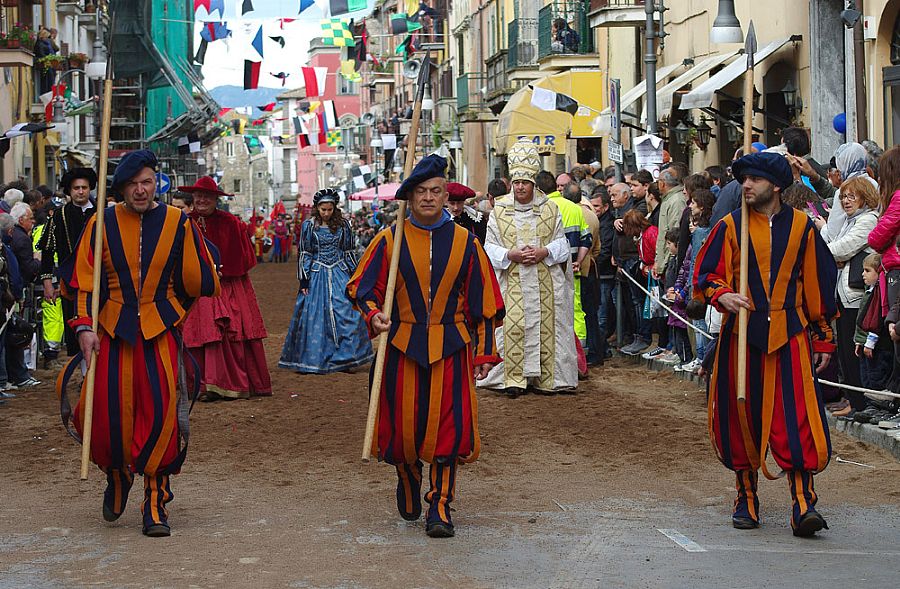 Find yourself in Campagnano di Roma at the beginning of May and you can enjoy a banner-decked festival and good food!. The Palio dei Sommari is also accompanied by the Festa di Baccanale, so you can eat and drink and by merry in piazza, and then watch a parade and a race.
A "Palio" is a competition that pits the town's districts against each other, usually in a race or a joust. In this case, the sommari race; that is, on donkeys. But before the big event comes a parade in Renaissance costumes through the town's streets, that are all decked out in colorful banners. This alone is worth the visit!
But being Italy, there has to be good food! And because this area is noted for its large round violet-tinged artichokes, they one of the main attractions! The "scarciofata" (carciofi is the Italian word for artichoke) dressed them with herbs and olive oil and then places them in hot coals to roast. Delicious! But if you want something more, there will be pasta and grilled sausage among the offerings, too. The cantinas open their cellars for the wine to flow.
The costumed parade isn't just a short procession, but a regal affair of about 350 people! Really something to see. Then the big race, each neighborhood participating to win the painted banner and bragging rights.
Check for dates annually as they change but it is held at the beginning of May.
Been there? Done that? Share your experience and tips!
Haven't visited yet? Have questions about Palio dei Somari? Ask them here!