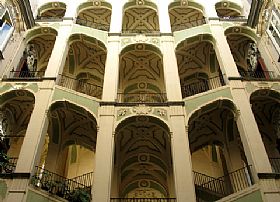 Palazzo dello Spagnolo is one of the most spectacular Neapolitan edifices. During the XVI century it was a residence compound of two close buildings.The owner was Tommaso Atienza who, like most of the inhabitants of the quarters Vergini and Sanità, had always had a nickname. He was known as "Lo Spagnolo", so that the property he bought during the second decade of the XIX century was immediately baptised as "Palazzo dello Spagnolo" (Palace of the Spanish), even if originally called Palazzo Moscati.
The building, in spite of the partial degradation, can reasonably be considered among most noteworthy constructions in town: it was built for want of Nicola Moscati, marquis of Poppano, from 1738. We do not have certain information about the real author of the project, but according to the legend, the merit goes to the architect Ferdinando Sanfelice who enlarged and modernized two properties, part of dowry of Marquis of Poppano's wife – Anna Maria d'Orso d'Albanella. The building is rightly popular thanks to the original architectural solution of the stairs: a bizarre and unique shape called "at hawk's wings", findable in all the numerous Neapolitan palaces officially attributed to the genial architect.
The staircases, really similar to (theatre) wings, were located perspectively at the bottom of the courtyard, being an authentic internal façade. It must have been very evocative indeed! Once the building had a beautiful garden, visible beyond the showy climbing arches and daring crosses.
The complex was completed by a rich stuccoes decoration, in rococo style, made by Aniello Prezioso and projected by Francesco Attanasio, around 1742. Admire the marvellous stuccoed transoms, holding medallions with busts.
When the palazzo passed from the Moscati Family to Tommaso Atienza the new proprietor, totally in love with his own building, wanted to decorate it with lovely frescoes covering walls, rooms' vaults, the hall, and enriched with precious furnishings the Chapel and Gallery. Unfortunately there is no trace of the frescoes, barbarically covered with recent whitewashing. To embellish and modernize the splendid palace, Tommaso "lo Spagnolo" was forced to plunge so much into debts to lose the property. He was dispossessed of the palace by the numerous creditors around 1850. The Costa Family acquired the building, which was gradually fragmented in numerous private properties.
The last two floors have been recently rescued by the regional Monuments and Fine Arts Office. Palazzo Moscati currently houses the Institute of Guarattelle, run by the master puppeteer Bruno Leone, with the cooperation of Massimo Perez. The 'opera of guarrattelle' is the puppet theatre imported in Naples from Spain, during the vice royalty. The institute preserves and promotes this ancient art, heritage of Neapolitan puppeteers.
Been there? Done that? Share your experience and tips!
Haven't visited yet? Have questions about Palazzo dello Spagnolo? Ask them here!
Address in Naples:
Via dei Vergini, 19.