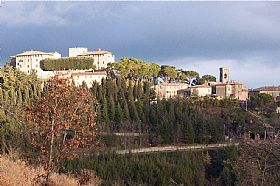 A tiny medieval hamlet packs a dramatic punch with its perfectly preserved castle resting on the crest. Montegiove sits in middle Umbria on a hill near Citta della Pieve. The Castello di Montegiove is one of the oldest castles in Umbria. The ancient stronghold has its ramparts and crenellations intact. It once belonged to the Counts of Marasciano. While the village is small there is a restaurant, a wine bar and a couple of stores.
It falls under the administration of nearby Montegabbione. Just outside Montegiove is the astonishing structure called La Scarzuola, an "ideal town" designed by Tomaso Buzzi. Esoteric, whimsical and eccentric at the same time, it is a sight to see. In the Franciscan church that was part of the monastery complex where La Scarzuola resides, you'll find a particularly interesting fresco; it is an image of the saint probably painted from life during Francis's sojourn here in 1218 and therefore a realistic likeness of him.
Montegiove sits high at 620 meters above sea level in a tranquil spot. It is near Fabro, Chiusi, Marsciano and Deruta.
Been there? Done that? Share your experience and tips!
Haven't visited yet? Have questions about Montegiove? Ask them here!
Explore nearby towns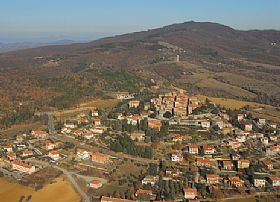 The town of Montegabbione, which easily remains far from obvious tourist itineraries, is a simple medieval village in the province of Terni.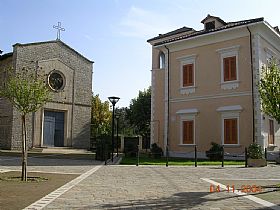 The town of Fabro Scalo developed along with the railroad line in the 1930s and quickly became a transportation point.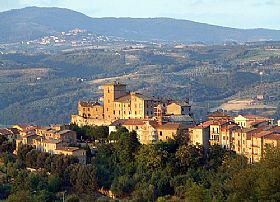 The cozy, compact town of Fabro enjoys a lucky location half-way between Rome and Florence.