Monte Santa Maria Tiberina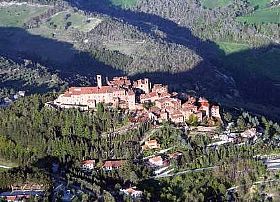 Located in the Upper Tiber Valley, the village of Monte Santa Maria Tiberina is full of charm. It has ancient Etruscan roots but a fully Medieval heart, and its enchanting centro storico offers atmosphere galore. Narrow lanes and passageways meander among palaces and historic stone buildings, with flairs of architectural detail to find and overflowing flower boxes to add a splash of color to the sand-colored stone.
It is parked on the hill in a very panoramic position, offering unparalleled views of the surrounding area. Fortresses and castles dot the summits, and chestnut and oak forests spread out over the hillsides. In between are patches of olive groves and vineyards. It's a postcard-like setting.
Monte Santa Maria Tiberina sits right at the border where Umbria meets Tuscany; in fact, up until about 100 years ago it was officially in the classification of Arezzo. It enjoys the cultural and gastronomic pleasures of both regions, with truffles, porcini mushrooms, excellent olive oil, fantastic wines, and traditionally-made cheeses and salamis dominating the menus. It's locale puts it in a central location for visiting the best of both regions, too: Arezzo, Citta' di Castello, Monterchi, Perugia and Gubbio are in easy reach, and forays can also be made into neighboring Le Marche and the independent republic of San Marino.
The town is small but offers several restaurants and cafes. Visit the Palazzo Bourbon, built in the 1500s; there is a crenellated castle on top of town, and its facing piazza is the site of many town festivals. The Pieve, church named for Santa Maria, is lovely and has an interesting stone baptismal fount and the Bourbon family chapel which is decorated with gorgeous hand-pounded iron-work.
A time-honored festa is the procession of the Ascension, re-enacted for centuries here. The mayor presents the town's silver key formally to the Madonna and protectress of Santa Maria Tiberina then hold a formal procession through the streets of the village in full regalia. There are several food festivals throughout the year, dedicated to the area's primary products of mushrooms, truffles, chestnuts, and porchetta.
Monte Santa Maria Tiberina is located just off the motorway for easy touring but in the hills for a tranquil stay
Been there? Done that? Share your experience and tips!
Haven't visited yet? Have questions about Monte Santa Maria Tiberina? Ask them here!