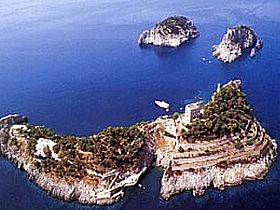 Li Galli, also called Sirenuse, is a small archipelago of three islands: Gallo Lungo, Rotonda and Castelluccio, which was considered abode of the enchantresses Sirens. The archipelago is located a few miles away from Positano. The most important evidence for the location comes from Strabo, Greek geographer who lived in the first century BC. These are two pieces that identify the Li Galli islands - in the stretch of sea facing Positano - with the three solitary and rocky islands as the seat of the Sirens.
For the Greek mythology, sirens represent danger and distraction, the story goes that many sailors, crossing that stretch of sea, then sank. It is said that, the name Li Galli, derives from the Siren's iconography in the ancient Greek figurative art, in which you have to imagine them as half woman and half bird: the "Greek" Sirens, therefore, should not be confused with the half woman and half fish Sirens of the medieval tradition. The most immediate matching you can do with these "feathered" sirens, it is with a hen or a rooster (Italian, respectively Gallina and Gallo), hence the name Li Galli still used today.
Li Galli host an Angevin tower that, due to the important position, had a peculiarity: the "Li Galli" tower, in fact, had its own castellan. The figure of the castellan was hosted long before the archipelago became an attraction for celebrities, from 1924 onwards. The charm of these islands has attracted many actors, painters, poets, and dancers throughout the years indeed. In fact, in 1924, Leonide Massine, Russian choreographer and dancer, bought the islands and built on Gallo Lungo (the largest of the three), a beautiful villa. In her honor is held every year an international award for the art of dancing. The property then passed to another famous Russian dancer, Rudolf Nureyev, who acquired it in 1989. Shortly after his death in 1993, the archipelago has passed into the hands of other individuals. Li Galli Islands are currently part of the Marine Protected Area of Punta Campanella, and you can reach them by sea.
Been there? Done that? Share your experience and tips!
Haven't visited yet? Have questions about Li Galli Islands? Ask them here!