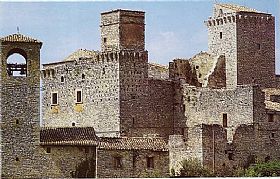 The imposing old Castle of Gualdo Cattaneo rises on the northwestern margins of the area that in ancient times used to be under the political power of Spoleto, and for ages was hotly contested between Foligno and Spoleto.
The name Gualdo derives from the word "wald" (wood), it's easy to intuit the presence of rich green forests that surround the area.
On the main square of this charming village you will find the Rocca fortress, with an imposing tower built in 1494 to defend the castle from potential invasions. This is the the most notable monument within the entire area, an excellent example of a military fortress with a triangular shape, in which every summit coincides with a round tower, connected with the others through underground passages. The highest tower overlooks the entire medieval village and the valley below. The tower has remained intact throughout the centuries, including the irregular arrangement of the rooms, which are still visitable.
The parish church is dedicated to saints Antonio Antonino and Beato Ugolino; it has an ornate façade decorated with reliefs representing the mystic Lamb, and the symbols of the four Evangelists. Inside is a beautiful thirteenth-century crypt, a true jewel of the Romanesque architecture, where nowadays the saints' artifacts are kept and preserved .
The Church of St Agostino, which is the oldest church in town, was built in 1136. It retains its unique Gothic main entrance. Inside are some significant paintings dating back to the 14th and 15th centuries, a truss wooden ceiling with a huge fresco representing the Crucifixion by Niccolò di Liberatore (called L'Alunno), a noted painter from Foligno.
Take a lovely walk throughout the beauties of this fantastic village lost in time, so you can fully enjoy the atmosphere and friendly welcome of the locals. Typical food and wine products will fill your noses and palate with joy... you'll find them waiting to be tasted in the central square, among the lovely restaurants and bars.
Been there? Done that? Share your experience and tips!
Haven't visited yet? Have questions about Gualdo Cattaneo? Ask them here!
Explore nearby towns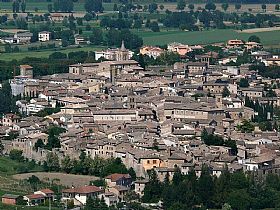 The prosperous town of Bevagna, has pre-roman origins.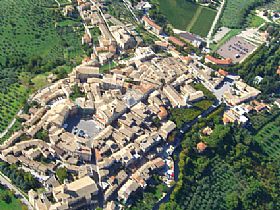 Thanks to the enchanting geographical position (on top of a 473 metres hill, among the valleys of Clitunno, Topino and Tevere), Montefalco has been defined "the Umbrian railing".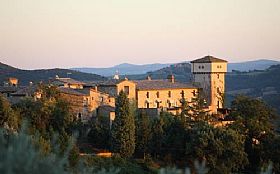 Canalicchio is a magical antique castle-town in Umbria.