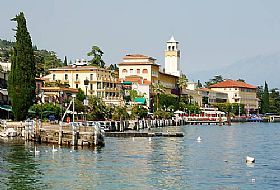 The town of Gardone Riviera is not just a resort but an attraction in itself. Located on the southwest part of Lake Garda, its unique climate offers a lush mix of plant life combined with gorgeous scenery and some splendid villas. There is a lakeside promenade lined with flowers that offers a breathtaking panorama of the lake and the enclosing mountains. Gardone sotto, the lower town, is the elegant part with upscale hotels and bars that have attracted literary, political, and artistic folks for a century. Gardone sopra, the upper town, is the old, more rustic part with narrow cobbled lanes winding between stone buildings. But it's the formal gardens that really attract people to Gardone Riviera.
Heller Botanical Garden.
Established in 1910, the microclimate of Lake Garda lets a variety of exotic plants from around the world to flourish, and this botanical garden is a great example. Irises, ferns, magnolias, edelweiss and orchids are just a few examples. A grove of bamboo trees, a hill of cacti and a riot of ivy combine in an unusual yet collectively delightful arrangement. The garden's Japanese-inspired landscape design is relaxing and inspiring; art sculptures and sprinkled around the carefully tended grounds, interspersed with waterfalls, ponds, and streams. It is an almost mystical park that will dazzle you with its peaceful beauty.
Open from March through October, from 9:00 AM til 7:00 PM daily.
Il Vittoriale
An eccentric, amusing and captivating compound built by Gabriele d'Annunzio, poet, playwright and WWI officer, and bequeathed to the State upon his death. There is an elaborate and outlandish villa with a reliquary room filled with icons from different spiritual beliefs, a and the main house, called The Priory, is oppressively crammed with a bizarre mix of objects, books, furnishings and paintings. Touring the home is a "journey into the eclectic and narcissistic mind of its creator" (as one guide said). D'Annunzio, a political writer and Fascist activist, was known as much for his ego as his writings. He supported and wrote speeches for Mussolini, yet publicly opposed the alliance with Nazi Germany and was seen as a threat by Mussolini to his own power and popularity, and sought to keep D'Annunzio out of the limelight. For these maneuverings, he put an inscription in the bedroom used by Mussolini during a visit:
But it's the garden that is really worth the visit. The grounds are laid out to take advantage of its exposure to Lake Garda. An amphitheater faces the lake, inspired by the one at Pompeii. Cypress-lined paths lead to pools, fountains and monuments. Terraced levels are laid out with palm trees, olive trees, and manicured shrubs. Secret spaces, columns and benches are scattered throughout and offer glimpses of the lake throughout the paths.
Open all year, from 8:30 AM til 7:00 PM daily in summer (until 4:00 PM in winter). Guided tours of the Priory are offered every half-hour.
Gardone Riviera is located near Tuscolano Maderno, across the inlet from San Felice del Benaco.
Been there? Done that? Share your experience and tips!
Haven't visited yet? Have questions about Gardone Riviera? Ask them here!