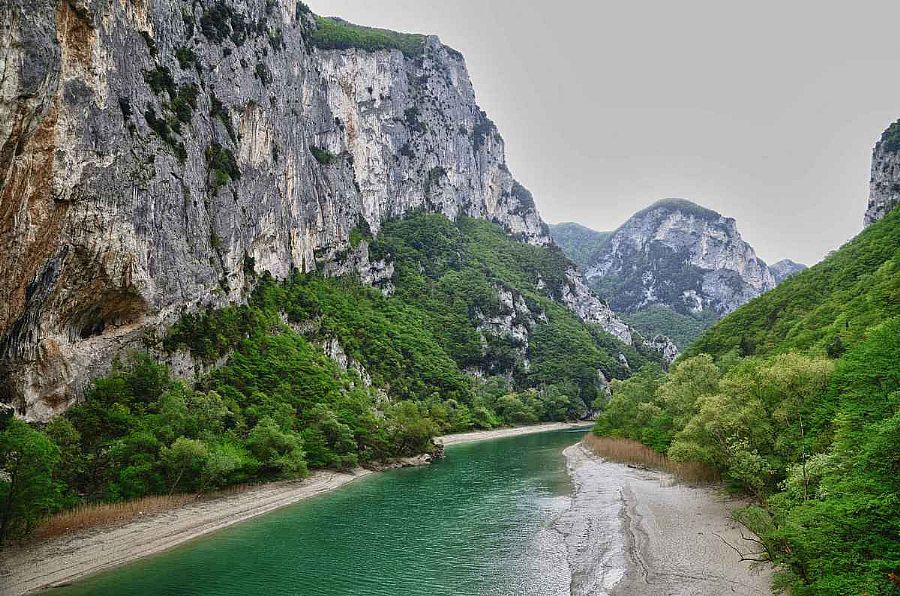 The Furlo Gorge, or Gola del Furlo, is a spectacle of nature that offers lofty heights and deep canyons that will take your breath away. Located near Fossombrone and Acqualagna in Le Marche, the park follows the Candigliano (and further down the Metauro River) and ancient Via Flaminia, with nature trails that transport you to spectacular scenery surrounded by nature's glory.
The Riserva Naturale Statale della Gola del Furlo is a bulky name for the Furlo Gorge Park. It is a deep valley and canyon sitting between Mount Paganuccio and Mount Pietralata in the Apennine mountains. The river formed the gorge (or canyon) and it is one of the most easily accessible -and spectacular!- in Italy. It was created by erosive forces over millennia, starting in Acqualagna and emerging from the gorges at Forum Sempronii (now called Fossombrone).
A Bit of Background
The Romans built the ancient Via Flaminia to traverse the mountains and reach Fano and Rimini on the Adriatic Coast and then up to Ravenna. The road was built in 220 BC by Gaius Flaminius as a way to cross the rugged mountain range that spans the spine of Italy. This pass was the most accessible route. Improvements were made in the centuries that followed with bridges along the route, and an impressive tunnel right here that actually gave the pass its name. Vespasian had a tunnel cut through the rock to avoid a strenuous climb; it was called the "petra forulus" (foro in modern Italian means puncture or hole), and became then Furlo. The Galleria Romana is a 40 meter long tunnel that was cut through the rock in 76 BC -and is still in use! Be sure to see it and walk through, as it is a highlight of visiting the Furlo Gorge. Trail descriptions can be found at this site (but in Italian).
Fossils, Canyons, Mountain Peaks
The park encompasses the narrow gorge with its it high rock walls as well as the surrounding mountains. Hiking trails lead to beautiful overlooks. The emerald-green river is striking below the rock canyon walls and the green-covered hills and mountains look more like Colorado than what you'd expect to see in Italy. Stop in the park office for trail maps and advice. It is located in the hamlet of Furlo. Guided excursions and wildlife tours are available. There are impressive and distinct flora and fauna in the park, especially prevelant are fossils of marine creatures. The park office can help you in organizing an outing, canoe or kayak, climbing, mountain biking and other activities in the gorge and mountains.
Throughout the gorge are reminders of ancient history, the traces of the Via Flaminia, and breathtaking scenery. It's really something to see!
Been there? Done that? Share your experience and tips!
Haven't visited yet? Have questions about Furlo Gorge? Ask them here!
Address in Fossombrone:
Via Flaminia.
Ph. (+39) 072 170 0041.