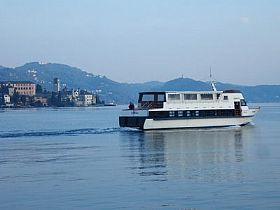 One of the best ways to see Lake Maggiore and visit its towns is by boat. It gives a unique vantage point to view the scenery from the water rather than the road! A ferry system links many of the towns as well as the islands, making it a fun and easy mode of transportation.
Navigazione Lago Maggiore. The primary ferry company plies the waters between Italy and Switzerland, with several stops along the way. In the southern part of the lake, the primary port is Arona. Stresa is another major embarkation point. Ferries travel up to Locarno and back daily. (Website link for Navigazione Lago Maggiore)
Lake Maggiore Express. A combination train and ferry day trip that transports passengers from Stresa to Locarno on a narrow gauge train, winding through the "hundred valleys" and beautiful alpine scenery. Along the way, it traverses 83 bridges and 20 tunnels between Domodossola and Locarno. An afternoon ferry boat takes you back to Stresa to see the scenery from the lake itself. (Website link to Lake Maggiore Express.)
Water taxis. If you want to go to the islands for dinner and return after ferry hours, or prefer a more personal approach, there are private water taxis to take you around the lake. Boats can be hired at just about any town with a dock. Some have organized dinner cruises or romantic evening sails, too.
Been there? Done that? Share your experience and tips!
Haven't visited yet? Have questions about Ferries on Lake Maggiore? Ask them here!