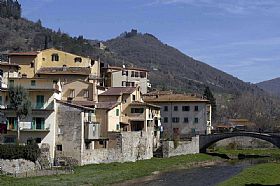 Dicomano enjoys a pretty setting among the undisturbed hills northwest of Florence. The natural landscape is dotted with stone villages and staked out with grapevines, from which the region's famous Chianti wine is made. This village retains much of its Old World charm.
The name comes from its location on the Comano River (di Comano, in Italian) and is built along both sides of its banks. The Ponte Vecchio connects the two parts. The Medieval Borgo with its beguiling stone streets, old quarters with loggias and small piazzas, and meandering lanes make for an interesting place to wander around. There are 18th century palaces and views of the surrounding hills to enjoy. The Palazzo della Scuola, once a school, is now the seat of the town hall. The temple-like Oratorio di Sant'Onofrio is delightful, wh ile the stone Romanesque church, Pieve of Santa Maria, is dwarfed by its squat, square bell tower that once served as a defensive tower.
There is an archeological museum to highlight the area's Etruscan history; it was settled by the ancient people who migrated from the Maremma region, and built an intricate road network. The excavation site at Frascole is open to the public. Dicomano sits in a nice setting in a little-visited part of Tuscany, despite its close proximity to Florence, where there are only small villages and outlying villas rather than cities. Nearby towns include Rufina and Vicchio. It is also near the national park of Monte Falterona, which soars up to 1,650 meters above sea level.
Been there? Done that? Share your experience and tips!
Haven't visited yet? Have questions about Dicomano? Ask them here!
Explore nearby towns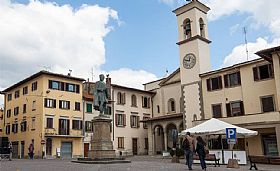 Vicchio is a pleasant village just 25 kilometers northeast of Florence.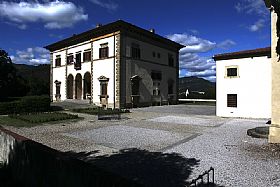 In the rolling hills northeast of Florence, Rufina rests on the Chianti wine road.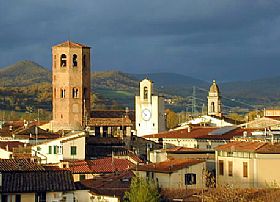 Sitting in the Mugello region northeast of Florence, Borgo San Lorenzo is an historic town at a strategic crossroads.