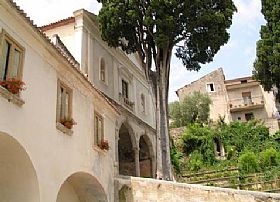 The convent's exterior is almost bare, except for the large church's portico, but the interior is so full of outstanding marvels to be considered a real museum of painting.
Setting your feet into the Convent of St Antonio you will stand literally dazzled while contemplating so much beauty: forty paintings masterfully made by Ragolìa in 1666, displayed in three parallel lines, up to the ceiling and central nave. At the centre is the richest frame for the master fresco portraying the Immaculate. The painter was certainly inspired by common people and real faces, so that in the Mary's Nativity we can see the midwife while bathing the baby dressing a folkloric costume of Polla, recognizable from the large blue skirt.
Even the picture of Salome and the parallel fresco - featuring the siege of Holofernes at the hand of Judith – you will be able to recognize some dresses and hairstyles of real youth of that time. Rogolia had quite probably portrayed his own face onto Holofernes' head.
The paintings have been clearly made in the style of Caravaggio, thanks to the fortune and good name of his art, which was very famous in the Naples of the past: full of artists coming from everywhere.
Anselmo Palmieri painted the wonderful frescoes on the walls , the ligneous Crucifix that will surely capture your attention, was instead sculpted by the friar Umile da Petrlia in 1636: a real masterpiece of art and piety!
A balustrade stone, signed by its own sculptor, separates the presbytery. The long refectory, according to the Baroque style, is composed by a series of pillars that used to be red coloured.
The seventeenth-century ligneous chorus, located behind the high altar, is a great piece of art: twenty-one seats and twenty-nine frontal busts of Franciscan Saints in bas-relief.
The lectern is at the centre of the chorus and shows an hexagonal basis, adorned with a gorgeous bolder representing the Christian virtues. The high cupola frescoed by Domenico Sorrentino and depicting the Paradise Glory (1681-1683) will definitely catch your eye, too!
While entering the convent, on your right opens, with a sumptuous sixteenth-century portal, the chapel of Immaculate. If you look attentively, you will notice that the portal is a monument in the monument: it juts out of the chapel and has the steps that lead to the chapel itself.
Been there? Done that? Share your experience and tips!
Haven't visited yet? Have questions about Convent of Sant'Antonio? Ask them here!
Address in Polla:
Via Sant'Antonio.
Ph. +39 0975 391 037.
Fax +39 0975 390 911.