Colosseum of Santa Maria Capua Vetere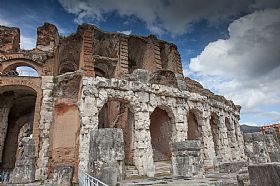 The second largest amphitheater in Italy after Rome's famed colosseum is the hulking shell in Santa Maria Capua Vetere. The city was once an important Roman center. Built on the fabled Via Appia (Appian Way), Capua claimed a number of high-profile residents and buildings to go along with its status. It was the site chosen by Hannibal as his troops' winter quarters and the city was counted among the great centers like Rome and Carthage in terms of its prestige. Its gladiator school trained Spartacus.
To compliment its amenities, an enormous amphitheater was constructed to entertain the citizenry. It was similar to and only slightly smaller than the one in the capital city of Rome, and could seat 60,000 spectators in its 4-tiered structure. It was adorned with columns and sculptures. While the external portions have been pillaged through the years, this particular colosseum gives a particularly interesting glimpse into the workings of an ancient amphitheater because its subterranean tunnels, galleries and vaults are virtually intact. It is fascinating to wander the lower level and see how the actors, gladiators and animals were housed and how they entered the upper structure.
It was from this amphitheater that Spartacus launched his slave revolt. Nearby are the remains of an ancient Roman bath complex and tombs from the Roman era as well. Next door is the Gladiator Museum to learn more about the warriors and their lives.
Been there? Done that? Share your experience and tips!
Haven't visited yet? Have questions about Colosseum of Santa Maria Capua Vetere? Ask them here!