Cinema Paradiso Town in Sicily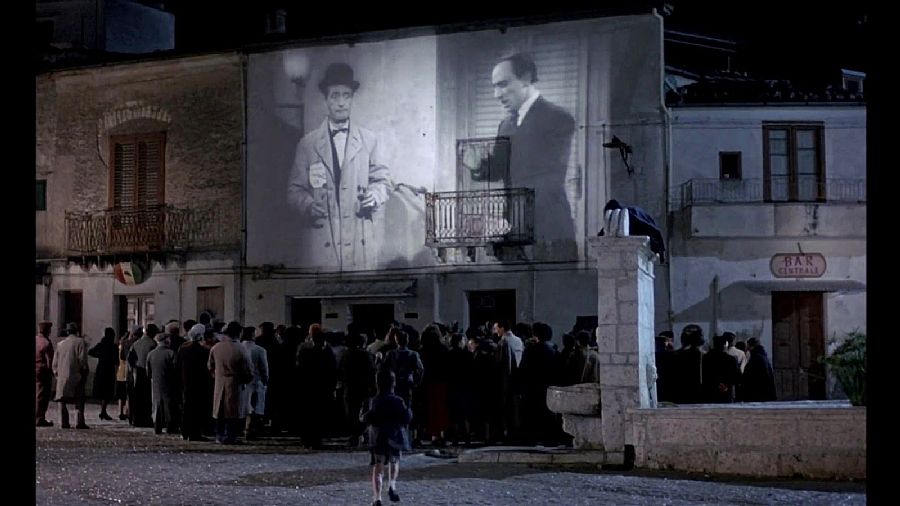 One Italian film that has become a classic is the touching Nuovo Cinema Paradiso, a post-war tale set in Sicily that won an Oscar. The young boy Salvatore di Vita, nicknamed Toto, finds his escape in the town cinema- and a father figure in the projectionist Alfredo. The coming of age story is also a homage to the golden era of movie magic that cast its spell, and Toto eventually makes a career for himself as a director. The movie has a wide fan base who come to Sicily to see the places where it was filmed.
Set in the fictitious town of Giancaldo, Nuovo Cinema Paradiso is semi-autobiographical and based on director Giuseppe Tornatore's hometown of Bagheria. The village of Palazzo Adriano was the setting for the cinema house, and the town's piazza played a starring role in much of the movie.
Piazza Umberto I - the piazza where the Cinema Paradiso was located and where many scenes occurred. The set of the movie house itself was constructed just for the film, so it doesn't exist, but the piazza itself is recognizable (and unchanged from when the movie was filmed in 1988).
Two churches facing each other were used: Santa Maria Assunta, where teenage Toto contemplates his future while sitting on the steps. In front of the church is where the ladies of town spread tomato paste on boards to dry in the Sicilian sun. Across, Santa Maria del Lume with its clock tower is where Toto attends Alfredo's funeral.
There is a museum dedicated to the movie, with items and photos on display. Palazzo Adriano and the Museo Nuovo Cinema Paradiso have become a sort of pilgrimage place, where fans of the movie come from all over the world to see the sets and pay homage to a movie that has touched people worldwide.
Other scenes filmed in the area: Poggioreale. About 20 miles from Palazzo Adriano, this ghost town was used as the set for the war-damaged town Giancaldo. The castle of Ventimiglia was the scene of Toto's school. Other scenes were shot in Cefalu' at the port.
Fun Fact: the director, Giuseppe Tornatore, makes a Hitchcock-like quick cameo appearance in the film; he is the projectionist at the end of the movie as Toto screens the reel left for him by Alfredo.
Been there? Done that? Share your experience and tips!
Haven't visited yet? Have questions about Cinema Paradiso Town in Sicily? Ask them here!