Church of Santa Maria dell'Ammiraglio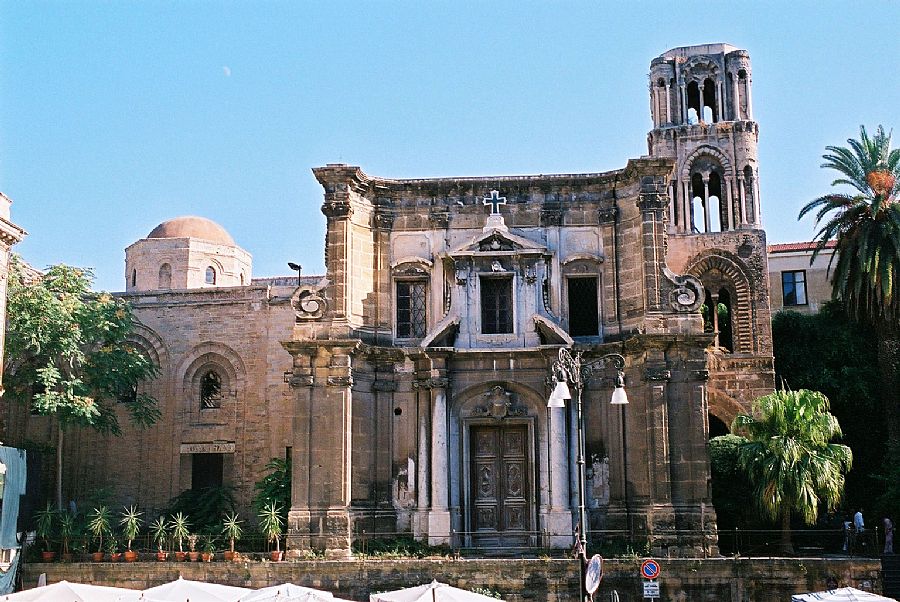 Santa Maria dell'Ammiraglio is also known as La Martorana, and is a spectacular, sacred site in the center of Palermo. The church was commissioned in 1143 by George of Antioch, the admiral of Norman King of Sicily, Roger II. It was completed in 1185. The design and decoration are said to have been undertaken and overseen by George himself, who loved the Byzantine style and art of his native Greece. The church was built to give thanks to the Virgin Mary for her protection, and to give the Greek Byzantine monks a home church. The church was dedicated to St Mary (Santa Maria) and quickly became designated as St. Mary of the Admiral. So why is it also called La Martorana? For Eloisa Martorana who established a convent here in 1194. Today, the names are interchangeable. The church saw the coronization of Peter III of Aragon, by the Sicilian nobles.
There is no mistaking the church, however, as it is distinctive. The original square Norman tower defines the church, sitting on Piazza Bellini. The facade was altered in the 1600s, given a Baroque portal, but the Norman arches and pointed windows belie its original architecture. The interior is a Greek cross plan with cross vaults. But you may not notice that, as is it hard to look beyond the glorious, gleaming wonderment of the mosaics that cover every surface of the interior. It is a truly breathtaking sight. These artistic creations were added in the 1150s and despite the passing centuries are still vibrant and depictive. They represent the oldest and best preserved mosaic work of the period. It is a magnificent church; a must-see while in Palermo!
While you're here, go next door to the contrasting church of San Cataldo. The Arab-Norman structure is a stark opposite of La Martorana. Its soaring columns and stone vaults and arches are the focus. The beauty of the church is in the architecture itself rather than its artistic decoration. Indeed, the only adornment is the tiled floor.
HOURS: 9:30 AM til 1:00 PM and 3:30 PM til 5:30 PM - Monday through Saturday; from 9:00 AM til 10:30 AM Sunday. Mass times: 8:30 AM weekdays; 11:00 AM Sundays.
Been there? Done that? Share your experience and tips!
Haven't visited yet? Have questions about Church of Santa Maria dell'Ammiraglio? Ask them here!
Address in Palermo:
Piazza Bellini.