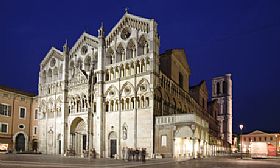 The austere facade of Parma's cathedral gives no hint of the splendor to be found within. While the facade boasts some decorative columns and carved capitals, which draw from plants, mythology and Biblical scenes, the overall exterior effect is of medieval reserve. But step inside and let your jaw drop in awe! The nave is rich and opulent, lined with columns and upper arcades and splashed with classic gilding and paintings. The side chapels are nicely decorated. But the eye is drawn toward the light and highlight - the dome.
The incredible riot of fabulous frescoes that decorate the dome are a triumph of perspective and detail that set the bar and influenced the artists of the late Renaissance and Baroque that followed. Here, Correggio achieved a new sense of illusion through extreme foreshortening that would astound everyone, and that continues to awe audiences all these centuries later! You can't help but gasp at the billowing robes and detailed muscular limbs that swirl amid clouds and create an incredible scene that draws your eye and thoughts heavenward.
The cathedral was started in 1059 and dedicated in 1116. Tragically, a year later the city was struck by an earthquake and the cathedral underwent massive remodeling. The bell tower was added in the 15th century, and the octagonal baptistry was built to match the church's facade. Dedicated to the Assunta, the Madonna ascended into heaven, the dome was given that scene to portray, which Correggio completed in 1530.
The church and its accompanying museum, the Museo del Duomo, are both open daily from 9:00 AM til 12:30 PM and from 3:00 PM til 7:00 PM.
Been there? Done that? Share your experience and tips!
Haven't visited yet? Have questions about Cathedral and Baptistry? Ask them here!
Address in Parma:
Piazza Duomo.