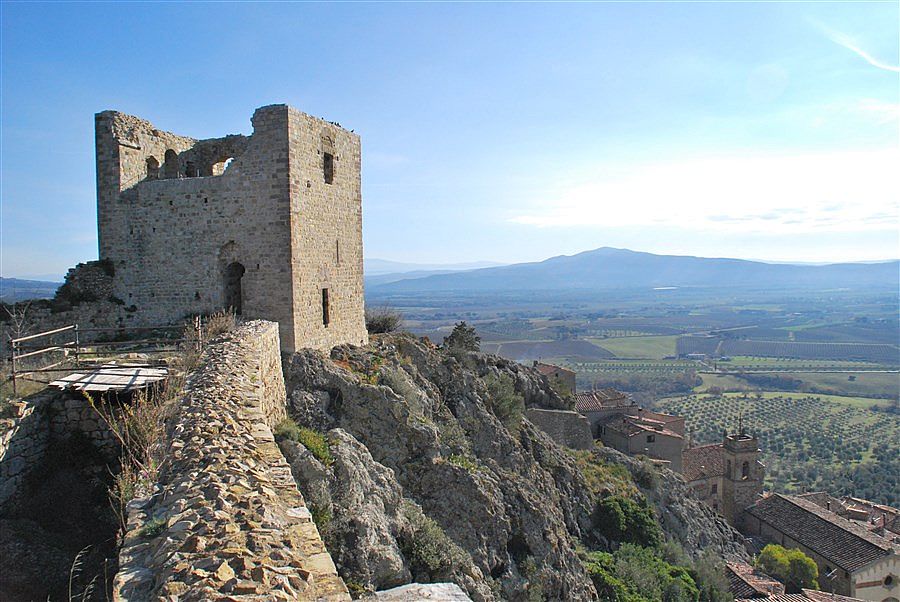 An almost mystical sight, the castle of Montemassi in its beautiful ruins sitting on a rocky hill above the rippling landscape of the Grosseto area. Perched on a spur at 280 meters (918 feet) above sea level, it affords encompassing views; now they're impressive and inspiring, but back in the 11th century when the fortress was built, the position was one of surveillance for invaders and hostile forces.
The territory belonged then to the powerful Aldobrandeschi clan, and the castle was part of the defensive network of the feudal holding. It was assulted by Siena in the 1200s and again in 1328, a battle that would be immortalized by Simone Martini in a fresco completed in the Palazzo Pubblico in Siena. Obviously, Siena prevailed in that seige, and held Montemassi and other parts of the territory for more than a century. There was constant feuding, though, among city-states and feudal lords. It fell under the Grand Duchy of Toscana, then the Medici's gifted it to the Malaspina family of Le Marche in 1632. They later sold it to a Genovese lord, but it declined, and fell into ruins.
The stolid fortress had an interior fortified courtyard, and cisterns for water, along with other defensive constructions and features that you can still see today when you visit. It is worth the time, as the panoramas, as mentioned, are utterly spectacular.
The Castello di Montemassi was named among the Luoghi di Cuore (places of the heart) of FAI, the national trust of Italy.
Been there? Done that? Share your experience and tips!
Haven't visited yet? Have questions about Castello di Montemassi? Ask them here!