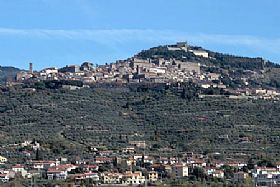 Camucia di Cortona lies lazily at the foot of the hill on which her big sister, Cortona, sits like a showgirl. The wide valley known as the Valdichiana is full of quintessential Tuscan scenes - olive groves interspersed with vineyards, alternately ablaze with crimson poppies and brilliant sunflowers. Large, square, stone houses dot the fields, just like the postcard pictures and movie scenes. The valley has been inhabited and cultivated since the Etruscans, who left tombs scattered about the area.
Camucia is small but offers friendly smiles along with everything you need for daily living. There are two grocery stores, some restaurants and pizzerias, and a smattering of coffee bars. A weekly market gives a glimpse of local life every Thursday morning. The surrounding countryside offers rural charm and tranquil walks with views of historic hill towns and the Apennine range. Tall, slender cypress trees line up along the roads.
From Camucia it is less than ten minutes to Cortona, up on the hill. Made famous by the book and movie, Under The Tuscan Sun, it is a beautiful medieval town, almost impossibly-perfect. It is one of the oldest towns in Tuscany and the archeological finds are housed in the Etruscan Museum, which holds Roman remains as well. There is sacred Renaissance artwork on display in the lovely Diocese Museum, including some art by local artist extraordinaire, Luca Signorelli. Cortona dishes up charm galore amid the maze of medieval streets and glorious piazzas, and offers a wide variety of restaurants, shops and cafes.
Camucia is well-situated for touring around. Visit nearby Arezzo and Lake Trasimeno, or venture off to Gubbio, Assisi, Perugia, Deruta, Siena and Citta delle Pieve. There is a train station here for going farther afield to Florence.
Been there? Done that? Share your experience and tips!
Haven't visited yet? Have questions about Camucia di Cortona? Ask them here!
Explore nearby towns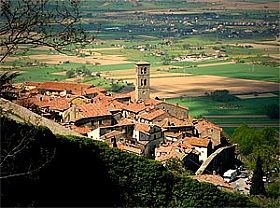 Cortona gives a great first impression when you see it stumbling up its hillside from the valley.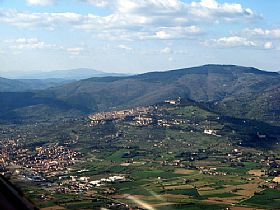 Terontola is a tidy country town at the foot of the hill near Castiglione del Lago.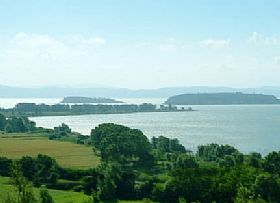 What looks like an ordinary lakeside town was actually the scene of one of history's epic battles.