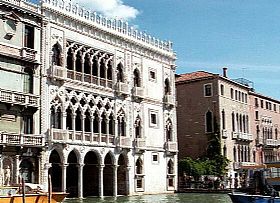 In 1420 the rich patrician Marino Contarini commissioned the most beautiful building in town. An incredibly skilled team of Venetian and Lombard artisans worked to make stunning decorations and marvellous sculptures: the façade was embellished with gildings and polychrome marbles. In spite of the gradual shameful abandonment of the XVI century, in 1846 the Russian prince Troubetzkoy, bought the church for the famous ballet dancer Maria Taglioni. Mrs Taglioni started a thoughtless restoration project: the open staircase was ripped out, the wellhead by Bartholomeo Bon (1427-8) was sold and much of the stonework removed. The Baron Franchetti finally brought it to the ancient splendour and decided to donate the oeuvre to the State in 1916. The stunning well head, Bon's masterpiece, was definitely rescued: the well is inspired by the forms of the fourteenth-century capitals on the Doge's Palace. On three sides the carvings represent Justice, Strength, and Charity, while the fourth bears the heraldic arms of the Contarini family who commissioned the work….just outstanding! The real pride of the picture gallery is St Sebastian (1506) painted by Andrea Mantegna, Baron Franchetti's favourite work of art - Andrea's fascination with St Sebastian is evident – the artist painted the subject several times with versions in Vienna and Paris.
The portego (gallery) onto Canal Grande, houses a notable sculpture collection. The most impressive examples are the bronze reliefs made by the Paduan sculptor Andrea Riccio (1470-1532), the tomb monument of a bridal couple, on the Double-Portrait relief by Tullio Lombardo, Madonna and Child (1530), part of a larger series representing the same subject, made by Jacopo Sansovino. On the right side of the gallery, the splendid halls exhibit Renaissance bronzes and paintings like the Life of the Virgin: Annunciation (1504), by Vittore Carpaccio.
The left side of portego is dedicated to the non-Venetian painting, including the Flagellation of Christ, by Luca Signorelli (1480).
The upper floor houses precious paintings made by Venetian masters, like Venus with a Mirror, by Titian: a visual feast of rich textures and sumptuous colours. Venus gazes at her reflection in a mirror held aloft by Cupid, while a second putto reaches up to crown her with a wreath of flowers.
Ca d'Oro is open to visits ever day, 8.15 am to 7.15 pm.
Been there? Done that? Share your experience and tips!
Haven't visited yet? Have questions about Ca' d'Oro? Ask them here!
Address in Venice:
Calle Ca' d'Oro.
Ph. +39 041 523 8790.