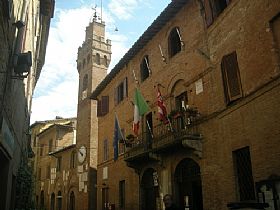 Buonconvento is considered one of the most beautiful towns in Italy. Set in the rolling hills near Siena, it sits in the middle of Tuscany near famous towns like Pienza, Montalcino, Montepulciano and San Quirico d'Orcia. It is surrounded by classic Tuscan countryside of rolling hills, sunflower fields, vineyards, and cypress-lined roads. Castles, villas, and centuries-old stone farmhouses are sprinkled abundantly all over the landscape making for very charming scenery.
Buonconvento was on the ancient Roman Via Cassia and was used as a stopping point and market village. Under the Republic of Siena, it was a defensive town, completely walled in 1371 with only two entry gates. In 1559, with the fall of Siena, it passed to the Grand Duchy of Tuscany, headed by the powerful Medici family. Because the Republic of Siena made it an administrative and military hub, much of the architecture and overall feel of the town is like a miniature Siena. While the Porta Romana gate was destroyed by the Germans in 1944, the Porta Senese, with its heavy wooden doors outfitted with iron that would be closed against invaders, still stands in its place, now perpetually open for all to enter and enjoy the lovely atmosphere of this delightful place.
There are pretty streets with brick archways, narrow passageways, banners blowing in the breeze, flower boxes, palaces and civic buildings with Guelph battlements on them. Via Soccini is the main shopping street in the historic center, with boutiques, stores, restaurants and coffee bars to enjoy. The palazzi, houses and public buildings feature Gothic arched doorways, coats of arms, towers and other Middle Ages decorations.
While it may be small, Buonconvento has a nice art gallery with a good selection of Tuscan painters represented. There is also a Museum of Sacred Art in the pretty Palazzo Ricci that is worth a visit. A theater was built for the community outside the walls in the 1800s; Teatro dei Risorti still entertains locals and visitors with a schedule of shows and concerts.
Just a few miles from Buonconvento is the famous and beautiful Abbey of Monte Oliveto Maggiore that should definitely be visited. Siena is easily reached, as are other classic Tuscan towns and the region's wine country. In short, its still in a strategic position, just as it has been for centuries!
Been there? Done that? Share your experience and tips!
Haven't visited yet? Have questions about Buonconvento? Ask them here!
Explore nearby towns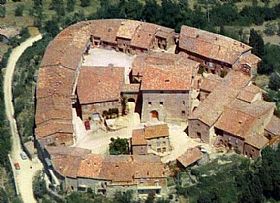 Murlo is a town of about 2,350 inhabitants in the province of Siena.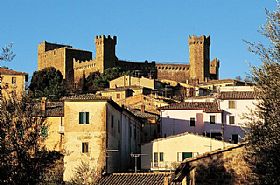 Montalcino lies in the heart of southern Tuscany, famous for its fine wines and dreamy landscapes.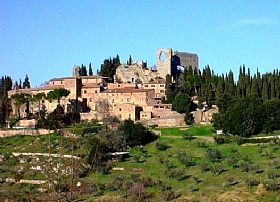 San Giovanni d'Asso is in central Tuscany, near Montisi, Sinalunga, Asciano and San Quirico d'Orcia.