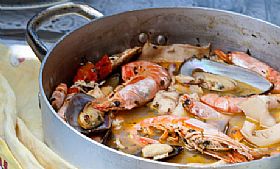 The traditional dish of coastal Abruzzo and Marche alike, brodetto has various versions. Originally it was made by fishermen and fish merchants as a way to use up the small catch, unwanted pieces and less prized seafood that came along with their haul. Now, as often happens with cucina povera, it became appreciated for its flavor and over time more cuts and types of seafood got added to the mix. The joy of brodetto is its versatility - you can throw in whatever you find and like, and it will still be delicious!
It contains whole or cuts of fish, along with crustaceans and calamari if you choose. The stew sometimes contains peppers and a dash of vinegar, like in San Bendedetto del Tronto, sometimes tomatoes and a bit of piccante zip, like around southern Abruzzo, and sometimes its light on the tomato and generous with the wine, like the versions around Ancona. Give it a try, because really, you can't go wrong!
Brodetto
Mixed fish (mullet, sole, rockfish, dogfish, cod, turbot, bass, mackerel, etc)
Crustaceans to taste (shrimp, mussels, clams) and small calamari, if desired
2 cloves garlic
1 onion, minced
1/2 to 1 cup tomato sauce or chopped tomatoes with juice
A pinch of peperoncino (red chile flakes)
A handful of fresh parsley, minced
A handful of celery leaves, minced
1 cup white wine
In a stockpot, heat a few spoons of olive oil and saute the garlic and onion. When they are golden, add the parley and celery leaves and saute a few minutes until wilted. Add the fish pieces (not the crustaceans) and stir-fry for a few minutes. Pour in the wine and let it steam the fish for a few minutes. Pour in the tomato sauce along with some water to cover the fish, sprinkle in the peperoncino, salt and pepper it, and partially cover the pot and let it simmer for about a half-hour. Uncover it and add the shellfish. Simmer another ten minutes until the shells open and they're cooked. Serve hot. It is often spooned over pieces of bread or bruschetta placed in the bottom of the bowls.
Been there? Done that? Share your experience and tips!
Haven't visited yet? Have questions about Brodetto Fish Stew? Ask them here!