Basilica of Santa Cecilia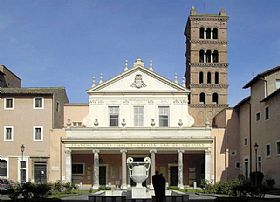 When the young, aristocratic Roman named Cecilia was dying a martyr's death in 230 AD, she is said to have sung out songs of praise to God. Her melodic voice soothed her husband, Valeriano, and his brother, Tiburtius, as they were martyred, too. She became the patron saint of musicians, and is often depicted in portraits holding a violin or playing an organ or other musical instrument.
The basilica dedicated to Cecilia is in the Trastevere district of Rome, a few steps from her home. The first church was erected on the site in the fourth century, but after Pope Pasquale I discovered the saint's incorruptible remains robed in white, he ordered the church be rebuilt to house her relics. It was amplified many times through the centuries, adding a portico, bell tower and cloister in the 11th century and then subsequent periods saw adornments like side chapels and the Baroque facade.
When a certain cardinal named Sfondati had Cecilia's remains exhumed to check on her, he was surprised to find the body in a state of perfect preservation and so commissioned a marble sculpture by Stefano Maderno to replicate her just as she was found. Note the fingers that seem to indicate the Holy Trinity. Other noteworthy works are the mosaics in the apse, which are from the original church dating back to 820. The realistic portrait of the saint is by Guido Reni, and the fresco of the Last Judgement in the nun's choir is considered one of Rome's most important medieval paintings.
Saint Cecilia's patron saint day is celebrated on November 22. the Basilica is located in Trastevere, on Rome's "left bank", south of the Vatican.
Been there? Done that? Share your experience and tips!
Haven't visited yet? Have questions about Basilica of Santa Cecilia? Ask them here!
Main church and excavations: daily 9.30am-12.30pm and 4-6:30pm; frescoes: Mon-Sat 10.15am-12.15pm, Sun 11.15am-12.15pm
Address in Rome:
Piazza Santa Cecilia, 2.
Ph. +39 06 589 92 89.