Basilica di Santa Prassede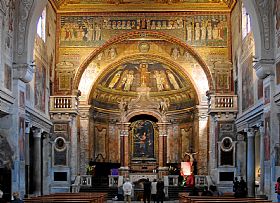 Packed with opulent mosaics dating from the 9th century, the Basilica of Santa Prassede can claim the title of the most important monument of Byzantine art in Rome. It sits in the Esquiline district, near the Basilica of Santa Maria Maggiore. The church has ancient origins. It was built in 489 AD and dedicated to St Prassede.
The present church though is the result of a renovation that took place during the pontificate of Pope Paschal I in 882, which built a new structure over the previous one. In the new church, the pope moved the remains of about two thousand Christian martyrs who were buried here and placed them in the catacombs of Priscilla.
The basilica has three naves divided by massive granite columns. In the middle of the floor is a disc that covers the shaft where they had excavated the remains of the martyrs. The entrance of the church is flanked by a simple portico. There is nothing that makes you imagine the extraordinary riot of color found in the interior, where the incredible ninth-century mosaics festoon the apse, the arches and the altar, among the most beautiful and important in Rome.
In the middle of the right aisle is the Chapel of San Zeno, built by Pope Paschal I as a mausoleum for his mother Theodora. It is nicknamed the Garden of Paradise. In a niche in the Chapel of St Zenone is a column about 63 cm high, traditionally considered the pillar of the scourging of Christ.
Been there? Done that? Share your experience and tips!
Haven't visited yet? Have questions about Basilica di Santa Prassede? Ask them here!
Address in Rome:
Via di Santa Prassede, 9.